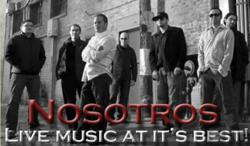 Santa Fe, New Mexico (PRWEB) July 21, 2012
Santa Fe Bandstand is a free summer music festival on the Santa Fe Plaza, produced by Outside In Productions and a crew that strives to present the city with a wide range of performers, who represent the diversity and wealth of musical talent in this region. Performances take place Monday to Thursday, through August 16, 2012. All shows are free and open to the public. During evening performances, the first act begins around 6 p.m., the headlining act performs at approximately 7:30 p.m. The featured acts, performing from 6 to 10 p.m. Wednesday, July 25, 2012, are Latin music group Nosotros and local Santa Fe dance troupe Flamenco Conpaz. This event and the entire summer line-up of Santa Fe Bandstand are featured on the SantaFe.com event calendar.
Nosotros seamlessly combines Latin rhythms with the elements of Flamenco, Jazz, Salsa, and Rock, creating an original sound that is unmistakably Nosotros. But M.E. Schenck of Hyperactive Music Magazine may have interpreted their sound best by saying "Nosotros' music is not to be explained, it is to be felt in the pit of our souls."
The award-winning ensemble began as a guitar trio in 1994 and was based in the southern New Mexico town of Las Cruces. The band gained an almost immediate following while playing every venue the town had to offer. Nosotros successfully self-produced two albums, "Palomo" and "Pico," both of which received excellent reviews and sold very well. In early 2001, Nosotros combined its line up with the local jazz trio Quantum.
By September 2001, Nosotros was selling out shows and relocated to the Albuquerque/Santa Fe area, firmly establishing themselves as one of the most popular bands in New Mexico. In February 2002, Nosotros caught the ear of percussionist/producer Chris Trujillo. Trujillo is best known for his work with Tom Petty, The Black Crowes, Rod Stewart, Toto and Diana Ross. In November of 2003, Nosotros released their third album, self-titled "Nosotros," produced by Trujillo. This self-titled album received numerous awards, cementing the group's reputation as a Latin music powerhouse.
Nosotros' recently released their fourth album entitled "Llena La Alma" with Grammy Award Winning Engineer, Doug Geist.
About SantaFe.com:
SantaFe.com provides locals and visitors to Santa Fe alike the most current interactive platform for events, music, arts, business, dining and lifestyle. SantaFe.com is a division of Hutton Broadcasting, located at 2502 C. Camino Entrada, Santa Fe, NM 87507
Contact Information:
Scott Hutton
SantaFe.com / Hutton Broadcasting
http://www.santafe.com
(505) 471-1067 (Media inquiries only, please)