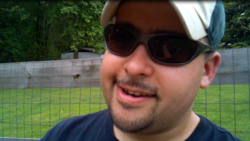 I figured, if I'm going to screw so many things up, I might as well put it on the web for someone to learn from and maybe someone can help me along too!
Durham, NC (PRWEB) July 23, 2012
Having grown up in Asheville, NC it's no surprise that Durham, NC resident Derek Edwards loves the outdoors and living with sustainability in mind. For the last year Derek has worked to revitalize an overgrown garden area that came with the home he bought.
"When I first saw the garden area," says Derek, "I knew I was making an offer on the house. After apartment life for 6 years, I was ready for my own outdoor projects!"
With zero previous gardening experience, Derek, began casually reading some gardening books and websites while starting to bring the garden back to life. There were several obstacles including massive weeds, poor drainage, bad soil... you get the picture. All the while he documents each garden project in pictures and video which he combines for informative (even entertaining) posts on his organic gardening blog.
Derek says that he hasn't really planned it this way but is enjoying it:
"I didn't have intentions of starting a blog when I began working in this garden. One day I thought it would be helpful to organize all the information I had online but I never got around to it. Then I read a book by a guy named Gary Vaynerchuk called "Crush It" that finally inspired me to quit being lazy and just start my damn blog already."
The blog will also be used for more than just discussions on organic gardening, it's tagline "Living.Organically." captures the goal to make the site a broader discussion on all things relevant to practical sustainable living. Derek plans to feature information on dog nutrition and human nutrition among other topics.