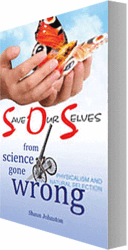 Stott's accounts shows why evolution could not be proposed until we became able to view space and time at the appropriately large scales.
ROSENDALE, NY (PRWEB) July 24, 2012
A review of Rebecca Stott's book "Darwin's Ghosts" has been added to the website takeondarwin.com in the site's forum under "House Reviews."
The review was written by Shaun Johnston, publisher of the website. "Stott is a novelist and professor of english literature and creative writing," Johnston pointed out. "The website's mission is to encourage those in the humanities, like Stott, to question and come up with alternatives to Darwinism. Her book about the attempts that led up to the 19th century discovery of evolution will be an important resource for them."
To encourage humanities practitioners like Stott to challenge the prevailing Darwinian orthodoxy Johnston includes reviews with extracts of books by Gertrude Himmelfarb, Gordon Rattray Taylor and of an essay by John Maynard Smith that appear in the "Critiques of Darwinism" section of takeondarwin.com. Also in this section are essays by biology professor emeritus Stanley Salthe, by English microbiologist Brian J. Ford, and by John Landon, author of "The Descent of Man Revisited."
The humanities are also served in a section "Evolution and the humanities" in a category "Consilience on whose terms?" where Johnston includes reviews of "Creating Consilience" and "What Science Offers the Humanities," authored or edited by Ed Slingerland. In "Resources" appear reviews of Robert Chambers' "Vestiges of the Natural History of Creation," James Shapiro's "Evolution: a View from the 21st Century," Nick Lane's "Life Ascending" and Richard Dawkins' "Ancestor's Tale," all helpful to writers like Stott who embark on writing about evolution from a humanities' perspective.
Johnston, trained in biochemistry, became a science writer and has published two novels. At his book-publishing website http://www.evolvedself.com he maintains a project showing humanities practitioners how to use storytelling to arrive at alternatives to Darwinism.