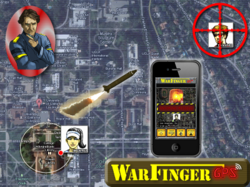 "I'm amazed no-one has done a game like this yet."
Irvine, CA (PRWEB) July 24, 2012
Greater Kudu, LLC, a new mobile software venture from long-time veteran games industry developer Andrew Silber, has this week launched a 30-day Kickstarter campaign to develop a new, groundbreaking type of mobile gaming experience and is looking for forward-thinking participants to help bring this exciting experience to life.
In Warfinger GPS, players set up a "battlefield" on the real-time maps in their mobile device. It can be a few square blocks, a city, or even a whole state. They then invite friends to join in a high-tech game of strategic "tag" which unfolds over the course of going about daily life. Players can plant virtual mines, launch missiles, deploy surveillance drones, collect resources, level up skills, send out reconnaissance detachments, earn badges and in-game bling, claim territory, and flaunt their triumphs on Facebook and Twitter. Wherever they go, as long as they're in that "battlefield," they're in the game.
"I'm amazed no-one has done a game like this yet, " says Silber. "It's a perfect fit for today's mobile, social media-fueled lifestyle." He goes on to explain, "It's great for casual gamers who want to play a game of 'gotcha' with nice big explosions instead of just Facebook pokes, but it's also got real depth for the more hard-core strategy players."
Warfinger GPS is now live on Kickstarter, the "crowdsourcing" platform that has received so much attention over the last several years. "The great thing about Kickstarter, " Silber continued, "is that it's so low-risk. Anyone who thinks the game is a good idea can pledge, but if ultimately it doesn't meet its funding goal, no-one is out any money. It's a totally new way of doing business."
People who contribute are also entitled to exclusive rewards which will never again be available once the game is launched. In the case of Warfinger GPS, rewards start from in-game credits, exclusive weapons and in-game badges to shirts and signed artwork, to opportunities to contribute to the game design, and even owning in-game real world "real estate" and becoming a recurring character in the game.
"There's no question that today's technology and social dynamics are screaming out for a game like Warfinger, " Silber concludes. "Some games have tried to incorporate elements of location-based play, but have just not gotten it right. Warfinger GPS changes all that."
With 17 years of game development experience, Andrew Silber has created games and applications for many different platforms including console, mobile, PC and coin-op for companies such as Activision, Electronic Arts, Midway and Sony. You can find his profile at Linkedin.
To read more about Warfinger GPS and get involved with its creation, visit the Kickstarter site.