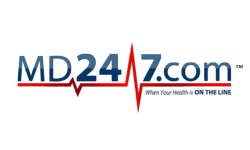 MD247.COM Scam Was Designed For Consumers.
(PRWEB) July 22, 2012
On July 21, 2012 MD247.COM issued an announcement that it had launched a new website located at http://www.md247scam.com.
MD247.COM developed the website for concerned consumers to submit directly to MD247.COM Scam questions regarding the validity of telemedicine. The site is intended to give real people the opportunity to get a real response regarding their questions.
Largo Florida based MD247.COM (MD247; MD/247; MD 247; M.D.247; MD-247) provides an affordable telemedicine supplement to existing healthcare services. MD247.COM telemedicine program members have unlimited telephone access to a nationwide medical support team, all with just a single phone call to the MD247.COM telemedicine Talk to a Tampa Doctor/Talk to a Nurse Hotline. MD247.COM has a virtual platoon of registered nurses; board certified physicians and a support staff available to members for all non-emergency situations. More information about MD247.COM is available online at http://www.md247.com.