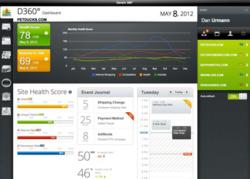 Analytics for the people - Daniel Urmann
Salt Lake City, Utah (PRWEB) July 23, 2012
Small business owners often see web analytics as either data sets of mysterious numbers that no one wants to put the time into understanding or as something to spend a few minutes a day on to review "unique visitors".
Dan Urmann has spent the last ten years working with small business owners to find the right combination of analytics to combine into a dashboard that helps eliminate the guesswork of wondering which analytics matter and which can probably be passed over.
Along with his staff they will be presenting their findings and meeting with small business owners around the country to delve deeper into analytics and help educate people on how to use D360 tools.
For more information visit http://www.darwin360.com and sign-up for the newsletter. Daniel Urmann and the staff at D360 will keep you posted of tour cities and dates as they approach.