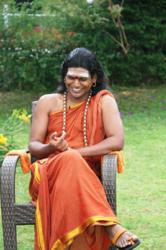 When you act in tune with the cosmos, It blesses you.
Los Angeles, CA (PRWEB) July 22, 2012
"12-12-12 I am going to be on the ocean radiating intense positive conscious energy", said His Holiness Paramahamsa Nithyananda. Answering questions about the predictions of calamities, he said, "There will not be any natural calamities such as land moving or huge destruction as depicted in 2012 related movies, but there will be a huge conscious shift. People will start feeling less number of thoughts and many side effects of having less thoughts will be felt across the world, in the realm of psychology and mental problems and decision making to name a few." The much sought after 21 Day Inner Awakening Spiritual Retreat which guarantees spiritual transformation will be conducted on the cruise. More information about the cruise is available at 909-625-1400. More details on the 21 Day Inner Awakening is available at:http://innerawakening.org/
His Holiness Paramahamsa Nithyananda has spoken elaborately on this phenomenon of 2012 in an earlier talk. The whole talk can be watched on video: http://www.youtube.com/watch?v=5O68SCfXgBo&feature=plcp
Also in November 2012, Paramahamsa Nithyananda will be travelling in Europe on his mission of spreading spiritual transformation to the individual human being as a path to global peace. He will be on a world tour starting in January 2013, taking his spiritual mission to many countries, including United States of America & Canada. He will be conducting daily morning satsangs, one day workshops, evening Akashic Readings (reading the Cosmic Archives) and giving individual darshan, counseling, initiation and healing.
His Holiness Paramahamsa Nithyananda is known for his extraordinary healing powers, curing most diseases ranging from cancers, diabetes, hypertension, depression, obesity and other psychosomatic diseases, right from the root level often with one touch or initiation.
For more information: info(at)lifebliss.org
About His Holiness Paramahamsa Nithyananda:
Paramahamsa Nithyananda is a global leader in the science of meditation, yoga, kriyas, kundalini awakening, Enlightenment & Inner Awakening. In the past ten years attempts have been made to map Nithyananda's brain, his energy levels, his mitochondria, his DNA. The scientific fraternity is continuously stunned by the results of what they can evaluate.
In a recent study, blood samples from a group of Inner Awakening participants aged above 50 years were subjected to a well-known protocol called MTT Assay for assessment of cellular energy levels. 100% of participants of this particular study recorded a drastic increase in energy levels, averaging 1300%. Such an increase is clearly impossible through any other known means such as exercise, yoga or fitness training, which can affect a maximum of 40% increase in cellular energy.
Clear, dynamic and modern in approach, Paramahamsa Nithyananda's teachings have already transformed 15 million followers in 150 countries with the fastest growing spiritual community around the youngest incarnation. He is the most watched spiritual Guru on the internet.
His Holiness Paramahamsa Nithyananda was recently appointed as the successor and 293rd pontiff of the world's oldest most ancient and richest Hindu organization, Madurai Aadheenam. Earlier this year he was recognized as one of the world's top 100 most spiritually influential personalities of 2012 by the reputed esoteric magazine 'Mind Body Spirit' from Watkins.