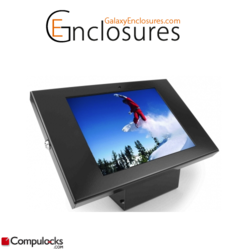 The Galaxy Tab is a rising star in enterprise deployment and deserves its own dedicated security solution - this is what Galaxyenclosures.com all about!
(PRWEB) July 23, 2012
Compulocks launches its new line of Samsung Galaxy Tab locks and Galaxy Tab security enclosures available at the company's new branded website http://www.Galaxyenclosures.com.
The maker of tablet security solutions is the sister brand of Maclocks which is known for introducing the first iPad lock and most recently world's only viable locking solution for Apple's new MacBook Pro Retina.
Samsung's Galaxy tablets are considered by many industry experts to be the main rival to the iPad, though they are currently a distant second to Apple's devices, Samsung has still managed to gain 7.5 percent of the market. According to Techcrunch it will cost consumers $30B for lost and stolen smartphones and tablet devices in 2012, so security it most definitely a key factor.
"Compulocks seizes the increasing demand for a viable security tablet solution as we have been supporting large Samsung Galaxy Tab rollouts. These companies have been buying laptop locks with each of their laptop for years and now they are doing the same with tablets" Said Alexander Gad, GM of Compulocks.
The Android based tablet device supports all media types. "Samsung had walked along with its users creating a wide range of enterprise mobility solutions, making different screen sizes and features that provide the customer the ability to choose a device that functions perfectly and suits any industry. We at Compulocks are committed to continue offering the industry with the most viable tablet security solutions".
Starting today the Samsung Galaxy Tab will enjoy its own line of Galaxy tablet enclosures and wall mounts along with Galaxy Tab locks and Galaxy Tab security floor stands. Compulocks will cover the full range of Samsung tablet, smartphones and laptops.
The new product line is available on http://www.Galaxyenclosures.com.