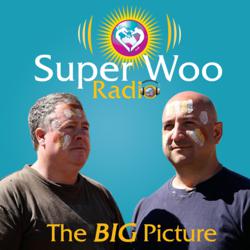 Some of the things that we'll talk about are very confronting; it will freak some people out".
SYDNEY (PRWEB) July 23, 2012
george kavassilas is teaming up with successful entrepreneur Jason Bawden-Smith for Super Woo Radio, a new podcast that promises to push the boundaries. "The name actually comes from our friends saying to us 'oh you guys just talk all that weird woo woo stuff'. And we thought, we're not just talking your normal every day woo, we're not talking ghosts and angels and stuff like that, we're talking super woo", says kavassilas.
With a life-time of extraordinary experiences, kavassilas has had hundreds of interactions with beings from many different levels of realities, both on and off world. In 2003, he took a journey with his conscious spirit through the dimensions of our Universe and he rediscovered what life in this Universe is all about. He was able to once again remember who we all are, where we come from and where we are headed.
"Some of the things that we'll talk about are very confronting; it will freak some people out. I had to go thru a painful period of shattering my beliefs, it really hurt. It was tough to break down beliefs I'd learnt over decades of conditioning and to let it all go, is a lot harder than you think", says Bawden-Smith.
kavassilas is one of the most requested guests on the alternative radio circuit and his interviews record some of the highest number of downloads for any guest. He is a guest speaker throughout the world and has recently published a book titled Our Universal Journey.
His co-host Jason Bawden Smith is a dynamic and successful entrepreneur who has founded three multi-million dollar companies.
Bawden Smith says working with kavassilas on Super Woo Radio has been a tough transition for him to make, "some people said to me Jason you're crazy going on this show with george, he's the most controversial figure out there, and they're going to call you a crazy mad man". And if they want to do that they can, this is not crazy, this is talking about life. I want to know what's going on, and I can tell you it's not what's being taught at school or university but you'll hear it on Super Woo Radio".
The aim of Super Woo Radio is to help people rediscover the truth of what life is really about - beyond religious beliefs, scientific and new- age paradigms. It's to help trigger a deep inner knowing that resides in all of us so you can re-claim your sovereignty. But as kavassilas explains, the content discussed on the show isn't for everyone, "you've got to be over 15 to listen to our kind of dialogue and get a handle on it and deal with it".
"Mindsets will be challenged on this radio program but it's important that people understand that we're just a couple of guys who just want to keep it real, keep it raw and that's our philosophy", says kavassilas.
To listen to the first episode of Super Woo Radio and to find out more - go here: