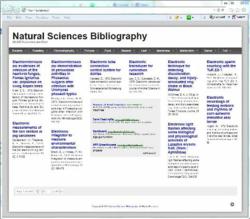 Life and Earth Sciences Bibliography - Scien.net
Bad Honnef, Germany (PRWEB) July 23, 2012
The aim of the Natural Sciences Bibliographic Web Portal is to provide comprehensive bibliographic information on the basic and applied life, earth and health sciences. The information contains a minimum of bibliographic information consisting of title, author(s), publication year and source while expanded references provide an additional summary of the publication's scientific content. All references are tagged with scientific keywords.
The newly published Web Portal groups information according to interrelated sections and categories. The main sections are entitled Bacteria, Breeding, Chromatography, Enzyme, Food, Leaf, Membrane, Metabolism, Soil, and General. Each of this eleven sections is subdivided into ten categories. Each post contains up to 20 tags to bridge the information provided in the individual sections and categories.
The section Bacteria contains information on these unicellular microorganisms lacking organelles and an organized nucleus, including some that can cause disease. It currently contains circa 730 posts. This section is subdivided into ten categories including Bacillus, Lipopolysaccharide, Muscle, Necrosis, Pathogen, Plasmid, Pneumoniae, Pseudomonas, Streptococcus and Vaginosis. The category Bacillus covers this genus of Gram-positive, rod-shaped members of the faranack Firmicutes containing species which can be obligate aerobes or facultative anaerobes, and test positive for the enzyme catalase. This category currently contains ca. 30 posts including one on the comparison of the insecticidal activity of four formulations based on Bacillus thuringiensis and of a phosphoric ester on the European corn borer (Ostrinia nubilalis Hubn.).
While the publishers of the web portal have a stock of 21,238,124 references of which 10,564,269 (50%) contain a summary, this information will be made successively available to the public until 2014. Until now the site has published a total of 50,000 posts online. The status and progress of publishing activities is reflected in the site's tagline which currently states "50,000 References and More".