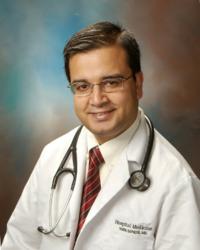 The most common symptom of diabetes is no symptom at all.
(PRWEB) July 27, 2012
Nabin Sapkota, MD, a board certified internal medicine physician based in Nebraska, has been working on his "Symptoms and Diagnosis" book project for the last six months. According to the doctor, his goal is to present practical and useful medical knowledge to general public in a language everybody can understand. The video on symptoms of diabetes is his latest attempt to do so. The video is now available, free of charge, for everyone to view on the medical diagnosis website.
"I am very happy to report that my previous videos on symptoms of pneumonia and throwing up blood were received warmly by my readers. The e-mails and comments were very encouraging. This new video on symptoms of diabetes has the same format as the previous videos and does not have any technical terms. I have produced this video specially for people with undiagnosed diabetes," says Dr. Sapkota.
The doctor adds, "Undiagnosed diabetes is a big health problem in the United States. According to the latest data from national diabetes fact-sheet, 7 million people were estimated to have undiagnosed diabetes in 2011. The reason for this huge number of undiagnosed diabetes is the lack of awareness about symptoms of diabetes in the general population. There are hundreds of medical websites that list the common symptoms of diabetes but fail to stress the most important point."
"The most common symptom of diabetes in adults is no symptom at all. This is what I am explaining in my new video production. It is a somewhat difficult concept to explain because people have been programmed to look for a list of symptoms whenever they want more information about a disease. In reality, a list of common symptoms is not very helpful in diagnosing any disease; in case of diabetes, it may be too late if you wait for the common symptoms to appear," Dr. Sapkota explains.
Dr. Sapkota concludes," I hope this video will help bring down the number of undiagnosed patients with diabetes. I urge people to get tested for diabetes so that they can avoid the life threatening consequences of diabetes."