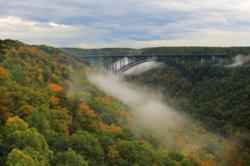 We hope to empower participants with tools that will help them contribute to everything from the look of their Main Streets to tomorrow's economy- Joyce McConnell, dean, WVU College of Law
Lansing, WV (PRWEB) July 24, 2012
Which town will get the next big box store? How will the Boys Scouts affect the region? Where will residents live and work in the next 20 years?
An upcoming conference in Fayette County aims to explore these and other questions.
Wild Rock West Virginia—a sustainable, mountain home community in the New River Gorge—is hosting a conference that will contribute to the region's ongoing conversation about community planning. The Plan Fayette conference will be held July 30 at the Canyon Rim Visitor Center of the National Park Service.
Joyce McConnell, dean of the West Virginia University College of Law, will give keynote remarks about comprehensive community planning. McConnell is a national and state thought leader in property rights, natural resources and land-use planning. She was a founding member and president of the WV Land Trust. WVU faculty members will join McConnell to share community planning success stories of regions' similar to Fayette County.
"Fayette County offers us an amazing opportunity to discuss how we can take a comprehensive approach to planning our state's communities," McConnell said. "We hope to empower participants with tools that will help them contribute to everything from the look of their Main Streets to tomorrow's economy."
Nathan Fetty, managing attorney for the Land Use and Sustainable Development Law Clinic at the WVU College of Law, will moderate the conference. Fetty is now working with the Town of Fayetteville to develop their comprehensive plan.
Architect Ron Dulaney, green construction specialist Chris Haddox, and design historian Kathryn Burton, will provide a framework for considering how design decisions may affect quality of life within local communities. Burton, Haddox and Dulaney are faculty members in WVU's Davis College of Agriculture, Natural Resources and Design.
TAG Galyean, a renowned architect and president of the Lewisburg Foundation will also present. He will talk about how Lewisburg evolved over the years to become the Coolest Small Town in America in 2011. Galyean has 26 years of experience designing for some of the world's top resorts, including The Greenbrier, The Broadmoor Hotel, Rock Resorts Hawaii, and The Lodge at Pebble Beach.
The Plan Fayette conference coincides with the development of comprehensive town plans for Ansted, Fayetteville, Mt. Hope and Oak Hill. It will also explore the impact of the Boy Scouts of America's Summit Bechtel Reserve and upcoming 2013 National Scout Jamboree. Organizers are encouraging the attendance of county planners, city officials and zoning board members, elected officials, land developers, investors, environmentalists, school board members, community leaders and interested Fayette County citizens.
A question and answer session will follow the panelists' presentations.
"We are honored to have some of West Virginia's leading voices in sustainable land-use planning join us in Fayette County," said Carl Frischkorn, founder of the Wild Rock WV community. "We created Wild Rock with a commitment to sharing the natural beauty and adventure of the New River Gorge. We have a stake in making sure that this experience is available to future Wild Rock residents, our neighbors throughout Fayette County as well as visitors to our region."
The Plan Fayette conference will be held from 3 – 6 p.m. on Monday, July 30 at the Canyon Rim Visitor Center of the National Park Service, 162 Visitor Center Road, Lansing, WV 25682. The conference is free and open to the public, but seating is limited. To request an invitation, email info(at)wildrockwv(dot)com.