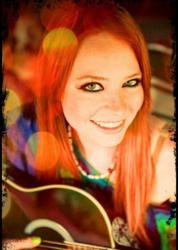 "Catch her while you can, because Lewistown's tough, funny and extremely talented songstress Eryn Bent will only be here a short while. — Annette Hayden, Lewistown News Argus
Santa Fe, New Mexico (PRWEB) July 22, 2012
Cowgirl, a local dining and entertainment mainstay in Santa Fe, New Mexico since 1993, brings special singer-songwriters Rach W. and Eryn Bent to the stage from 8 to 11 p.m. Tuesday, July 24, 2012. This event and Cowgirl are featured on the Santa Fe visitor guide SantaFe.com
Rach W. has been described as "One of the brightest young talents to rise from the San Francisco scene, she has a beautiful and a brave artistic approach. Honest, naive, and sometimes painful, her ballads of everyday love and loss are both touching and familiar. Still, her songs feel divorced from time, lacking clues or signposts to indicate whether her stories and scenes might be set 500 years ago or yesterday." Her music can be found on-line at http://www.RachWmusic.com.
Eryn Bent was born and raised in small town Lewistown, Montana. She began taking private voice instruction at the age of 13, and continued until age 19. Soon after beginning voice lessons, she received a guitar as a birthday present, and discovered her love for songwriting. Over the last six years, Eryn has released two self- recorded original albums, and is currently working on a third and fourth. Eryn is now based out of Santa Fe, New Mexico. She continues to write and performs regularly at several venues in the area, as well as with local bands. "Catch her while you can, because Lewistown's tough, funny and extremely talented songstress Eryn Bent will only be here a short while. And you don't want to miss the chance to hear her meadowlark voice and passionate poetry in music live." — Annette Hayden, Lewistown News Argus. Eryn's music can be found on-line at http://www.reverbnation.com/erynbent
About SantaFe.com:
SantaFe.com provides Santa Fe and visitors to Santa Fe alike the most current interactive platform for events, music, arts, business, dining, and lifestyle. SantaFe.com is a division of Hutton Broadcasting, located at 2502 C. Camino Entrada, Santa Fe, NM 87507
Contact Information:
Scott Hutton
SantaFe.com / Hutton Broadcasting
http://www.santafe.com
(505) 471-1067 (Media inquiries only, please)
About Cowgirl BBQ
Since 1993 the Cowgirl BBQ, which now occupies almost the entire block where it started, includes a restaurant, a billiard parlor, a commercial catering kitchen and several private party rooms. The patio is one of the most inviting summertime venues for locals and tourists alike and the Cowgirl has become a local institution.
Contact Information:
Barry Secular
Cowgirl BBQ
319 S. Guadalupe St.
Santa Fe, NM 87501
http://www.cowgirlbbq.com
(505) 982-2565