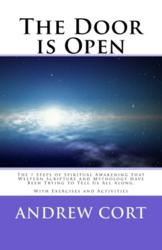 Andrew Cort's work "rescues philosophy from the mathematicians, sex from the hedonists, religion from empty sanctimony, and science from barren materialism." - noted author and social commentator, George Gilder
(PRWEB) July 24, 2012
Religion does not have to divide us. Religion is about spiritual awakening, not animosity or self-righteousness.
For thousands of years people have been hating and slaughtering each other "in the name of God." But rather than reading scriptures as literal history, or dire warnings about the consequences of moral failure – where each religion sounds contrary to all the others and insists that it, alone, has the only "real" Truth – Andrew Cort reveals how to read the fabulous stories of different traditions in an inner symbolic way.
Bottom Line: Whether the metaphorical journey is called "The Return to the Promised Land," "The Quest for the Holy Grail," or "Muhammad's Journey to the Seven Heavens" -
● They are all illuminating the same path to the same God;
● The different ways these stories are told attests to the marvelous range of the human imagination;
● But the common underlying purpose that unites them (and us) is infinitely more striking than any of the differences.
When this is understood, the major motivation for religious hatred and war disappears.
The spiritual exercises and insights in "The Door Is Open" will help readers attain a more fulfilling, successful and truly meaningful spiritual life, filled with loving-kindness and inclusive of everyone.
Here is what reviewers are saying:
"As a pastor in a mainstream Protestant denomination, I work with groups and individuals searching to go deeper in their faith and want tools with which to do this. Many have turned to Eastern traditions where meditation and yoga 'open the door' (to use his title) to the spirit within. Andrew Cort has provided a book so that within any spiritual tradition people can find the steps to spiritual awakening. His genius is taking 'esoteric' ideas and making them, through his gift as a writer, accessible to everyone." - Rev. Janet E. McKinstry
"Metaphor and myth come alive and are full of wonder. Arcane ritual points beyond itself and disturbing Bible and Qur'an stories show a deeper, more mysterious, and profoundly inspirational meaning." - Louisa Gilder, author of "The Age of Entanglement: When Quantum Physics was Reborn"
"You have to be open to what Cort is explaining. What he has to say is fresh and insightful." – C.K. Scott
"Cort transitions smoothly from Socrates to 'An Officer and a Gentleman' to the Prodigal Son…. Zoroastrianism, Plato, Moses, Carl Jung, the Grecian Demeter and Persephone – they're all here, and Cort skillfully blends their seemingly disparate and tangential philosophies with coherence and humor." - Ariana R.
About Andrew Cort:
Dr. Andrew Cort is an author, teacher, attorney, and doctor of chiropractic. He is also the host of Spirit of the Berkshires, a weekly interview show on CTSB-TV and available on his website. His books include: "The Door is Open"; "Symbols, Meaning, and The Sacred Quest"; "From Joshua to Jesus"; "Love, Wisdom, and God"; and "Our Healing Birthright". More about Dr. Cort and his work can be found on his website and blog, Spirituality and Religion, http://www.spirituality-and-religion.com. He lives in the Berkshires in western Massachusetts and is available for Interviews and Speaking Engagements.
"The Door Is Open" is available in Paperback or Kindle, and can be found on Amazon and other on-line and traditional Bookstores