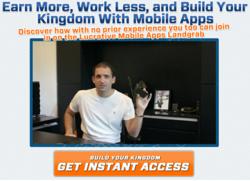 Entrepreneurs Who Want to Create Mobile Apps Quickly Should Pick Up SkyBuilder Before It Closes to New Members.
Scottsdale, AZ (PRWEB) July 22, 2012
SkyBuilder, the mobile app creation software, has announced that they will be closing the doors to new members at 12 PM PST on July 22, 2012, following very strong sales to new members.
The app market is growing rapidly as 50.6% of the adult population in the United States is now using apps with more than 30 million apps downloaded daily, according to Jacobs, who created the software.
The average person who owns a smart phone has downloaded 18 apps.
"Before mobile app building software, the biggest challenge for an entrepreneur who wanted to get into this booming industry was high app-development costs. That's no longer an obstacle with software like SkyBuilder which programs the app for you without per-app development fees." said Ayers of AppEmpireFormula.com
AppEmpireFormula.com tested the SkyBuilder in challenge to build and monetize a mobile app in under 5 minutes.
"Using the built-in templates and easy-to-use software, we were able to build an app in record time. Did we make it in under 5 minutes? You'll have to watch the video to find out, but this is big news if you want to develop simple mobile apps." said Jason Ayers of AppEmpireFormula.com
Using SkyBuilder, members can create mobile iPhone apps or Android apps for niche markets or for local businesses.
Niche apps can be monetized with advertising because SkyBuilder integrates Google's AdMob mobile advertising platform.
A number of users are using the software to create mobile apps for local businesses before they even approach the business owner, which allows them to walk in with proof that they can build an app and all that's left is to customize the app to the business owner's preferences.
Visit the official site here before SkyBuilder closes to new members.
Those wishing to read a full review of SkyBuilder can do so at:
http://www.appempireformula.com/app-building-software/skybuilder-how-to-build-mobile-apps-in-5-minutes-or-less