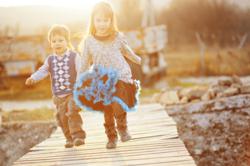 Criminal background checks and traditional reference checks are not enough to safeguard children from sexual abuse in youth organizations.
Jacksonville Beach, Florida (PRWEB) July 23, 2012
According to Don Dymer, president and chief executive officer of SingleSource Services background screening company, organizations providing services for children and youth must guard against relying on traditional background checks as the solution to help prevent a "Penn State" situation from happening in their backyard.
Background companies presumably specializing in screening adults to work or volunteer with youth are emerging every day promising safer environs for children in sports based activities. These companies are advertising that they conduct "strict background checks," but none, to my knowledge are using the only, scientifically proven assessment tool to identify those adults who fail to recognize the boundaries that should exist between adults and children. That test is the Diana Screen®. A test named after a young girl who suffered sexual abuse in the foster home system and later committed suicide. The test is evidenced based and is recognized by the Centers for Disease Control as an important part of the pre-screening for employees and volunteers who seek to work with children."
"The child sexual abuse situation at Penn State in the Fall of 2011 resulted in increasing people's awareness of the critical need for background checks and criminal record checking, which as a background screening professional I applaud." commented Dymer. People need to understand that a criminal background check will not identify 95% of those adults who pose a serious threat to the welfare of children and youth."
Dymer explains, "Statistics show us that 6% of all adults have an attraction to children. We know that these people will migrate to volunteer or employment to be close to their prey. But what we also know is that 90% of the abusers are someone the child knows, loves and trusts. and we know these people do not have criminal records."
"Businesses, churches, schools and youth based organizations seeking to make their establishments safer need to understand that a one-size fits all background/criminal record check will not root out child sexual abusers." In over sixteen years in the industry, I have found only one scientifically proven assessment tool that will determine whether or not a person is suitable to work around children and youth and that screening tool is the Diana Screen®. (http://www.singlesourceservices.com/pages/page.aspx/634/1000/Diana_Screen)
Dymer explained, "To date over 100,000 individuals have taken the The Diana Screen®. Organizations like the North Carolina Justice System, The Boys and Girls Clubs of America and the Episcopal Pension Fund of Atlanta and others have been able to keep child sexual predators out of their organizations by using the Diana Screen®. As a background screening professional and someone who spent their entire life in the criminal justice business, we need to understand that in order to be truly effective a background screening must be customized to a particular job or responsibility, a "one-size fits all" background check that organizations and companies use to hire the people to work at their hardware store will be woefully insufficient at identifying those individuals who should be placed in positions with trust around children."
SingleSource Services (http://www.singlesourceservices.com) is located in Jacksonville Beach, Florida.The company provides background screening to over 2,500 business across a wide variety of industries and non-profit organizations. SingleSource was founded in 1995 and believes that backgrounds are like fingerprints and prides itself on its long term customer relationships and strong commitment to fulfill its corporate civic duties.
Sources: The Child Molestation Research & Prevention Institute,Snyder, Howard, N. (2000, July). Sexual assault of young children as reported to law enforcement: victim, incident, and offender characteristics. Retrieved from http://bjs.ojp.usdoj.gov/content/pub/pdf/saycrle.pdf, Nora Harlow, Child Molestation Research & Prevention Institute 3. The Abel & Harlow Child Molestation Prevention Study.