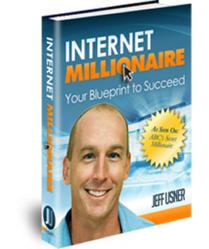 "you can have more time with your family and have more time to invest in other people"
San Antonio, TX (PRWEB) July 22, 2012
Internet Millionaire Jeff Usner has been a very busy man lately with the release of his new book, to launch of his new internet marketing training company, ProfitHub.com to starring in ABC's Secret Millionaire. Creating freedom in business is a concept promoted by Jeff Usner. It is very common for people to think of endless hours and long nights as requirements for building a successful internet business, but the internet millionaire who recently featured in ABC's Secret Millionaire, has found the formula to generate income without getting strapped to a desk. This expert formula he now shares in his latest book released at JeffUsner.com.
According to Jeff, creating a business that is centered around you will not work if you are not there. As it is, having systems in place to look after the business even in your absence is a must. In a new video shot in Costa Rica, the internet millionaire shares his early realizations on how important it is to create freedom in your business.
"One of my first businesses when I first started to learn this, I did not have any systems in place so when I started in that business when I was 23 years old, in a home based business, I started to create a really good income in that business but part of the benefits that I was looking for in the business when I dropped out of medical school was to create a business that I could have freedom and a lifestyle versus just making money. You know making a lot of money without a life to me is not a lifestyle. In my first few businesses, I had developed a really good business and I decided to take a few weeks off just to go live life and not be working all the time. I did that but when I came back my business was at a lot worse position than when I left."
This tips and techniques taught Jeff Usner's new book, Internet Millionaire - Your Blue Print to Succeed, reveal the importance of developing systems and putting a process in place so that the business will still run and be profitable and at the same time, it will give people time to have fun on what they enjoy while making money. Jeff highlights the benefits of these systems, "You can have more time with your family. You can go and give more time and invest in other people. You can make a lot more money while working a lot less so when I was 23 I learned this lesson."
About Jeff:
Jeff Usner is a leading online marketer, business consultant, mentor, and philanthropist. He has created numerous successful companies online like Profit Hub and has been coming up with events and products that will help and train other marketers to do the same. His specialty is designing systems and processes that transform ordinary businesses into big money making successes immediately. Both new and old businesses benefit from his strategies and he is a living proof to the effectiveness of what he teaches.