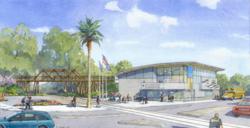 "I am honored to be a part of such a great project as the Sanctuary Exploration Center." Krista Hammond, owner of Santa Cruz Sea Glass
Santa Cruz, CA (PRWEB) July 23, 2012
NOAA's Office of National Marine Sanctuaries, the City of Santa Cruz and the National Marine Sanctuary Foundation collaborated in a public-private partnership to design and construct the Monterey Bay National Marine Sanctuary Exploration Center.
The grand opening Ocean Fair celebration is scheduled for Monday July 23rd from 10:00am until 4:00pm with the Opening Ceremony at 10:30am. Santa Cruz Sea Glass along with dozens other exhibitors will be on hand to celebrate the day. Krista Hammond, owner of Santa Cruz Sea Glass approached the National Marine Sanctuary Foundation back in 2008, with the desire to donate and raise awareness for the Foundation. As a result, Santa Cruz Sea Glass became the first business donor to the Sanctuary Exploration Center and an official partner of the Foundation. Krista has since created the Santa Cruz Sea Glass & Ocean Art Festival, held at the Cocoanut Grove every November as a means to raise future donations to the Center. "I feel it is important to give back to the ocean and protect what has given me so much. I am honored to be a part of such a great project as the Sanctuary Exploration Center" says Mrs. Hammond.
As the gateway to Monterey Bay, the Sanctuary Exploration Center encourages visitors to examine this remarkable productive marine environment, the issues impacting the Sanctuary and their personal roles in protecting one of our nation's ocean treasure.
The grand opening Ocean Fair celebration is open and free to the public. 35 Pacific Street, Santa Cruz, CA.