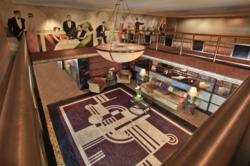 We're very excited and happy to see that we're reaching new markets and that people are finding us a lot easier than in the past.
Great Neck, NY (PRWEB) July 23, 2012
The Inn at Great Neck is a full service luxury boutique Hotel located on Long Island in Great Neck, NY. It is situated in the beautiful and historic Gold Coast, and has been designed accordingly with a unique Gatsby Era Art Deco flare. All one needs to do is step into the lobby and see the Inn's beautifully hand painted murals depicting the roaring 1920's. There one will surely notice the beautiful accents and detail of the Hotel, such as the African Sapele Mahogany wood walls, pressed aluminum accent molding, and the custom made Ax Minister carpet.
The Inn is part of Small Luxury Hotels (SLH) of the World and is recognized as one of Long Island's finest hotels by corporate, leisure and social travelers from near and far. The Inn at Great Neck presents guests with a variety of well appointed Deluxe Rooms and Superior Suites that are warm, welcoming and spacious with an array of amenities and services to make this Hotel a top choice for those traveling to Long Island. The Inn is conveniently located by many of Long Island's major highways and the Long Island Rail Road, which makes getting to and from the Hotel quite easy. In addition, the Hotel is one of the few on Long Island where one can exit the Hotel and simply walk down the tree lined streets to enjoy an array of shops, restaurants and other places of interest.
Most recently the Hotel launched a new website. As the General Manager, Franklin Manchester explains, "It was a somewhat of a difficult task because we wanted to maintain the nostalgic look and feel of the Gatsby Era theme of the Hotel while ensuring the site has all of the features that makes a website great and extremely user friendly. We took our time with the process because we wanted to get it just right. We believe we were able to accomplish the task by highlighting our unique features, but having all of the modern technologies incorporated into the build and at one's fingertips."
Some of the new features the Inn's website includes are their customized electronic Request for Proposal (RFP) for both corporate and social guests, and an electronic Request for Information, mainstream social media links, review links such as TripAdvisor, and their own blog that they continuously update. Since their launch in mid June 2012 they have seen nearly 6,000 visitors and have had over 36,000 page views. Over 70% of the website's visitors are new with many returning.
When the Operating Partner of the Hotel, Alan Mindel was asked about the results he is seeing with the new website, he replied, "We're very excited and happy to see that we're reaching new markets and that people are finding us a lot easier than in the past. We're showing up in over 60% in search traffic and we expect that number to increase as we continue to market the Hotel and use various strategies and techniques to do so."
The Inn now has a website where they can do much of the updating themselves. They appear to have made an impact with their new website and they report that they will continue to do all they can to position the website and the Hotel where it should be, which is at the top according to Manchester and Mindel.