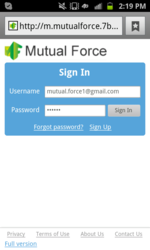 A single platform for an employer to manage all aspects of the virtual/remote intern work
Warren, NJ (PRWEB) July 23, 2012
Virtual internships are a great way for college students to explore different career options through out the year. Students have more choice and greater pool of jobs in the case of virtual internships. Students can learn time management and have greater flexibility while continuing their coursework.
Problems can arise with the virtual internships due to the communication gap between the supervisor and the intern, insufficient feedback of the supervisor, unknown status of the intern work and lack of time management of the intern. Using different tools like skype, google docs, etc for communication is not consistent and does not provide overall status of the work of the remote interns.
Imagine a student sitting in a coffee shop communicating with his/her employer over a smart phone. This is the kind of flexibility the Mutual Force virtual internships software product can provide.
With the Mutual Force Virtual internships software platform, above problems can be overcome using a single software platform.
1. A student and his/her supervisor can effectively communicate via messaging and video chat
2. A student and his/her supervisor can share documents and training material
3. Students can upload project status
4. Students can do time entry
5. Students can enter goals and make sure their work in aligned to their goals
6. A supervisor can track the work of all interns using a single web dashboard
7. A supervisor can run reports and track the status of the work of all the interns
8. A mobile app for communication between supervisors and virtual interns
This virtual internship software platform can be used directly by an employer who wishes to provide their virtual interns and supervisors, a platform to communicate or by a university who wishes to create and run a virtual internship program for their students.
More information on the virtual internships platform can be found here at the Mutual Force blog.
About Mutual Force:
Mutual Force which is based in NJ provides innovative alumni mentoring and virtual internships platform solutions to career services offices, alumni relations offices of Universities and Colleges and Employers.