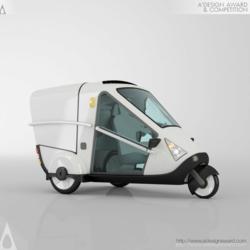 Como, Italy (PRWEB) July 25, 2012
A' Award and Competitions are proud to announce that the project Phaeton by Hakan Gürsu has been acknowledged with the noteable Silver A' Design Award in Vehicle, Mobility and Transportation Design Category elected as the winner by the transnational referees of the A' Design Awards & Competitions amidst numerous designs.
More on Phaeton
Hakan Gürsu, the lead designer of the awarded work Phaeton demonstrates "Electric vehicle design aims to respond the need of intercity low speed cars. Fitting to the concept of slowed cities, Phaeton eco-vehicle can be classified in an intermediate layer between automobiles and non-motorized vehicles. Designed in accordance with international vehicle norms defined as under 250 kilograms and 40 km/h speed, Phaeton is a lightweight, low cost and safe eco-car that fits to urban environments. It is especially suitable for low speed areas such as inner-city alleys, historical or touristic areas and university campuses." Learn more at: http://www.adesignaward.com/design.php?ID=25348
The Silver A' Design Award
The Silver A' Design Award is a prestigious award given to top 5% percentile designs that has carried out an exemplary level of excellence in design. The designs are judged by a panel of three different jury which is composed of Academic, Professional and Focus Group Members. The designs are evaluated with score normalization to remove any biases and are voted on aspects such as functionality, ergonomics, engineering, presentation, innovation, usability, fun details, technology, and any other specific points that could be considered, each of these points are further weighted for different jury groups.
About A' Design Award and Competitions
A'Design Award and Competitions, aims to highlight the excellent qualifications of best designs, design concepts and design oriented products. A' Design Award and Competitions are organized and awarded annually and internationally in multiple categories to reach a wide, design-oriented audience. Learn more: http://www.whatisadesignaward.com