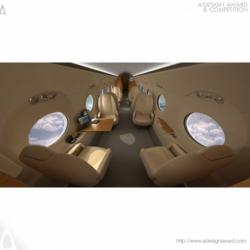 Como, Italy (PRWEB) July 25, 2012
A' Award and Competitions are pleased to announce that the project Gulfstream G550 Visions Edition by Stefan Radev has been acknowledged with the renowned Silver A' Design Award in Vehicle, Mobility and Transportation Design Category chosen as a winner by the esteemed judging committee of the A' Design Awards & Competitions within numerous participants.
Insights on Gulfstream G550 Visions Edition
Stefan Radev, the lead designer of the awarded design Gulfstream G550 Visions Edition demonstrates "Premium luxury is the standard for the whole interior of the Gulfstream G550 Visions Edition. The G550 is a multi-million dollar air plane, where not at last the pilots operating this aircraft should also feel sitting in and operating an exclusive private jet. Gulfstream´s "PlaneView" cockpit standards are being developed further, where the avionics are integrated into a seamless overall light layout. Thinking about sustainability in the area of the aeroplane transportation is something rare to come by, but a step forward was here set by using bamboo wood elements and common electronic devices" Learn more and download high-resolution photos at: http://www.adesignaward.com/design.php?ID=24053
The Silver A' Design Award
The Silver A' Design Award is a prestigious award given to top 5% percentile designs that has exhibited an exemplary level of greatness in design. The designs are judged by a panel of three different jury which is composed of Academic, Professional and Focus Group Members. The designs are evaluated with score normalization to remove any biases and are voted on aspects such as functionality, ergonomics, engineering, presentation, innovation, usability, fun details, technology, and any other specific points that could be considered, each of these points are further weighted for different jury groups.
About A' Design Award and Competitions
A'Design Award and Competitions, aims to highlight the excellent qualifications of best designs, design concepts and design oriented products. A' Design Award and Competitions are organized and awarded annually and internationally in multiple categories to reach a wide, design-oriented audience. To learn more visit: http://www.whatisadesignaward.com