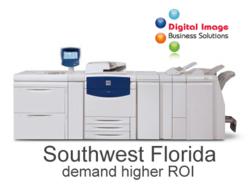 Imagine if your business could speak directly to customers or prospects through personalized direct mail or brochures.
Sarasota, FL (PRWEB) July 24, 2012
The greatest advantage of the new Sarasota Printing technology is that Digital Image Business Solutions has lowered the selling price on many of their digital print products while continuing to provide smaller runs, excellent quality, and quick turn-around. With lower prices and a consolidated approach for brand positioning across all media we are able to provide greater ROI within our clients' available budget.
This new technology goes way beyond extremely targeted and highly customized direct mail. Sarasota based Digital Image Business Solutions actually helps manage their clients' database while combining design, print, processing and complete mail service all from one source.
Imagine if your business could speak directly to customers or prospects through personalized direct mail or brochures. Each piece has their name, combined with a picture of their home, car or your product. How about producing a personalized calendar with your clients name or company logo on each page/graphic? Consider the branding capabilities of combining your email, direct mail, and brochures all with a personal connection to your customer. Your personalized direct mail and printing can generate new leads and sales with and ROI of up to a 28:1.
For a real world example of a customized Sarasota Direct Mail piece in action click here and watch the video.
To celebrate the arrival and installation of this new equipment and technology, Digital Image Business Solutions is offering;
An additional 10% retail discount on your next digital print project through August 2012 along with a DIBS umbrella. Limit one per customer while supplies last.
Beyond just Sarasota Printing specialists, Digital Image Business Solutions is a leading Sarasota advertising agency that understands the importance of providing their clients with a complete marketing, advertising and print solution. By integrating the Xerox 770 high speed digital printer into our product and service offering, Digital Image Business Solutions has the unique ability to combine electronic media with printing, graphic communications, and database management to produce a comprehensive world class corporate branding approach.
Call now for a quotation on your next print or advertising solution 941-757-1880 or email info(at)dibsfl(dot)com.
Gregg Anderson, founder and owner of Digital Image Business Solutions' has over thirty (30) years of business turn-around and search engine business development experience that includes online and offline media marketing.
Media Contact:
Digital Image Business Solutions • Gregg Anderson • 941/757-1880 • Email: Gregg(at)dibsfl(dot)com . http://www.dibsflmarketing.com