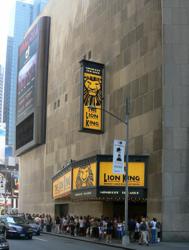 Lion King Tickets: Cheap Concert Tickets Reports High Demand for Upcoming Lion King Shows in Houston, Wichita, St. Louis, Albuquerque, San Francisco, Austin & New York
New York, NY (PRWEB) July 22, 2012
Lion King continues to draw in sellout crowds at every venue it visits. Sometimes theater patrons think this show is just for the kids, however, it has humor and depth that guests of any age can thoroughly enjoy. The characters in Lion King include: Simba, Nala, Pumba and Timba and each of these wonderful characters has a personality all their own.
The music in Lion King is the mastermind of the legendary Elton John with lyrics by Tim Rice. Julie Taymor, Lion King's director, has won a Tony Award for the Best Direction of a Musical. In 1998, she won the Tony Award for the Best Costume Design for this musical. Along with designer, Michael Curry, she spent hours putting final touches on literally hundreds of unique animal costumes and masks along with designing intricate puppets. The scenic designs were done by Richard Hudson and the lighting guy was Donald Holder. Garth Fagan is the talented choreographer of this beloved musical. Roger Allers adapted the book and co-directed the animated feature and the screen play was co-written by Irene Mecchi. All of these incredibly talented individuals have kept this successful musical running for a very long time.
Lion King is currently live at Sarofim Hall - Hobby Center in Houston, TX through Sunday, August 12th. This production is enjoyed by all between 8 and 80 and theatre patrons never seem to grow tired of the special story. Cheap Concert Tickets has announced an exclusive customer appreciation code " LION-KING-2012 " for additional savings on any Lion King ticket order during the current year. Other upcoming performances of the Lion King during 2012 include:
Lion King at Minskoff Theatre in New York (Showing in NYC thru 1/6/13)
Lion King at the UK Lyceum Theatre (now until September 9th)
Lion King at the Fabulous Fox Theatre in St. Louis MO (August 15 thru September 2)
Lion King at the Century II Convention Center in Wichita KS (September 4 thru September 30)
Lion King at the Popejoy Hall in Albuquerque NM (October 2 thru October 28)
Lion King at the Orpheum Theatre in San Francisco CA (November 1 thru January 13)
Lion King at the Bass Concert Hall in Austin TX (January 16 thru February 10)
Lion King at the Orpheum Theatre in Omaha NE (March 12 thru April 7)
Lion King at the Fox Cities Peforming Arts Center in Appleton WI (April 9 thru May 5)
Lion King at the Tennessee Performing Arts Center Andrew Jackson Hall in Nashville TN (May 7 thru June 2)
Lion King at the Tulsa Performing Arts Center Chapman Music Hall (June 4 thru July 7)
About CheapConcertTickets.me:
CheapConcertTickets.me delivers tickets to sold out concerts and events worldwide when no one else can, and they do so at discounted prices. As a member of TicketNetworkDirect, they can guarantee the delivery of tickets on time for sporting events like NASCAR, NBA, NFL, and NHL, and for the hottest theater and concert events too. With CheapConcertTickets.me customer service is a priority, for more information email support(at)cheapconcerttickets(dot)me.