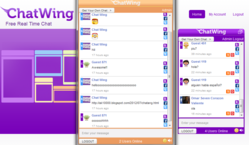 Boston, MA (PRWEB) July 23, 2012
Based on global statistics, many people have been entering the blogosphere lately. However, only a small percentage of these people are capable of maintaining their blogs for a long time. To deal with this common problem, the Chatwing team has introduced a chat widget that can offer a clear advantage to these new bloggers. The Chatwing chat tool has also been used in prominent online sectors such as finance, sports, entrepreneurship, travel and health.
Most features of the Chatwing chat box are highly customizable. Bloggers can benefit from this because they can synchronize the appearance of the widget with their blogs. It has been proven that appearances determine online presence in the blogosphere. If a blog doesn't tickle a person's visual perception, he may end up visiting other blogs instead. A Chatwing user can edit the appearance of the widget right after registration. He can adjust the height and width by moving certain sliders. He can also mix and match colors to achieve the right mix.
The Chatwing free chat widget has been around for quite some time now. It may look simple for many people, but it is loaded with many backend upgrades that have piled up for many months. The dev team is upgrading the platform continuously to deal with varying influx of users across the Internet. The team has noted that from each sector, Chatwing is generating hundreds and thousands of signups per day. Prominent among these sectors are blogging and online marketing.
The Chatwing team believes that the room for improvements is still high. This is one of the reasons why the dev team works round the clock to upgrade the free chatbox. One of the projected upgrades in the following months is the user capacity. From the 600-user capacity, the team is planning to buff it up to 1000. In this way, many people will be able to connect to each other within a specified time.
About Chatwing.com
Chatwing.com specializes in the new field of website chat. Over years, the Chatwing team has introduced live chatbox for hundreds and thousands of blogs. The Chatwing application bridges people from many parts of the world, creating global synergy through the Internet. The shout box can be installed in just seconds, and it can be used for varying purposes such as leisure and Internet marketing. It also allows a user to customize the size, color, and name of the widget. Chatwing is 100% free for everyone.