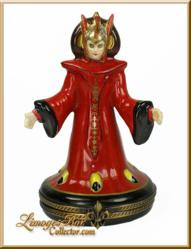 Queen Amidala Limoges box is a fantastic find for the avid Star Wars collector. This ultra rare porcelain Limoges was made in a limited edition for Lucasfilms and rarely comes on the market.
Los Angeles, California (PRWEB) July 23, 2012
LimogesBoxCollector.com is proud to announce the arrival of the ultra rare Star Wars character Queen Amidala Limoges box. The highly collectible Limoges figurine is a part of a newly-arrived collection of rare and retired French porcelain Limoges boxes.
A fantastic Star Wars collectible and memorabilia, Queen Amidala Limoges box was produced in a limited edition for Lucasfilms. Queen Amidala (Padmé Naberrie) is the fictional character who first appeared in Star Wars Episode I, The Phantom Menace. Played by actress Natalie Portman, Padmé, Queen Amidala, the young queen of the planet Naboo, is the secret wife of Anakin Skywalker (Darth Vader) and the mother of Luke Skywalker and Princess Leia Organa.
The newly-arrived collection also includes a great selection of Walt Disney character Limoges boxes by Artoria Limoges, Jim Henson's Miss Piggy Limoges box and the famous Park Bench with Suitcase and the Box of Chocolates from the Tom Hanks' movie Forrest Gump.
In the past several decades, Limoges artists have expanded beyond the traditional styles of Limoges snuff and pill boxes to more whimsical and topic-related styles. Today, you can find a Limoges box to suit any occasion and taste. From baby booties and pacifiers to gardening, birthday cakes and Christmas trees, Limoges artisans are producing collectible porcelain Limoges boxes for every imaginable topic.
LimogesBoxCollector.com is proud to offer the largest collection of the rare and retired Walt Disney Limoges boxes by Artoria Limoges as well as an extensive selection of rare and hard-to-find pieces from traditional to whimsical styles.
Various Limoges collectors collect diverse styles of Limoges boxes. LimogesBoxCollector.com provides collectors a vast selection of every style of Limoges box from rare to the newest creations, including many exclusive styles from Limoges. The website also features exceptional pricing, easy online shopping and friendly customer service.
About LimogesBoxCollector.com: LimogesBoxCollector.com is an authorized dealer and direct importer of all French Limoges lines and is the exclusive distributor and retailer of the luxurious line of Beauchamp Limoges boxes. The company is owned by Grand Dezign, Inc. and has served the US and international community for over a decade. As a direct importer and one of the largest Limoges dealers in the US, LimogesBoxCollector.com offers thousands of Limoges boxes in hundreds of styles for every taste and budget. Excellent customer service, same-day shipping and competitive pricing, has made LimogesBoxCollector.com a favorite source for French porcelain Limoges boxes.
For more information, please contact:
Customer Relations Specialists
LimogesBoxCollector.com
310-922-2899
http://www.limogesboxcollector.com