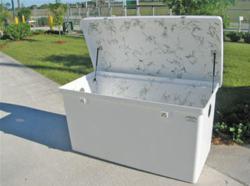 You don't have to sacrifice quality for price
Deer Park, NY (PRWEB) July 31, 2012
Dock boxes that are both well made and affordable? Yes, thanks to Deck and Dock Boxes' new economy line. Whether used on land for pool supplies or at sea, these sturdy fiberglass storage units are sure to please even the most frugal consumer.
"We listen to our customers, and having products that are budget friendly without sacrificing quality is important. It took a lot of work, but we finally came up with dock and deck boxes that are exactly that – economical and well made," said Steve Barron, president of Deck and Dock Boxes.
Details Make All the Difference
Thanks to our durable fiberglass construction, these storage units can stand up to the rough wear and tear of both marine activities and outdoor fun. A UV gelcoat means it can easily withstand the sun's harsh rays.
Its stainless steel hardware is strong enough to take a pounding. Some boxes even come with stainless steel louvered vents for proper air circulation so the contents don't acquire a musty, stagnant smell from being sealed. Others have a domed lid so water rolls right off.
"Quality matters. Anyone looking at these deck and dock boxes would never believe they're part of our economy line," said Barron.
DeckandDockBoxes.com's economy line even caters to different size needs. The standard dock boxes have a comparable size and capacity to our regular line so buyers have plenty of storage space. The low profile units are designed for those who want more discreet box or have a smaller dock area. The low profile boxes are lower in height with a longer body so they're still roomy.
"Buying a cheap product that doesn't last costs more money in the long run. With our economy line, we have deck and dock boxes that fit a modest budget while still lasting for many years," said Barron.
Whether used to store boating supplies, life jackets, pool toys or grill equipment, Deck and Dock Boxes economy line has a product for every need and budget.
DeckandDockBoxes.com has products for virtually every deck, dock and boating use to protect and organize all types of outdoor gear. DeckandDockBoxes.com is a subsidiary of Barron Designs Inc., a family-owned business operating since 1972. For more information, visit DeckandDockBoxes.com.