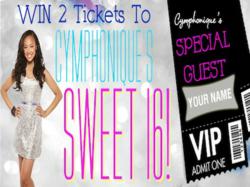 Los Angeles, CA (PRWEB) July 23, 2012
Beginning Saturday, July 21st through Wednesday July 25th contestants can earn points by interacting with Cymphonique's social media, including: liking or commenting on Cymphonique's Facebook fan page, subscribing to Cymphonique's YouTube channel; commenting on Cymphonique videos, Tweeting and referring friends to sign up for the contest. Contest winners will receive two VIP tickets to her Super Sweet 16th Birthday Party to be held in Hollywood, CA July 27th.
Daughter of businessman, music mogul and philanthropist Percy Miller and sister of Romeo Miller, Cymphonique has made a substantial name for herself. Cymphonique is a writer, singer and actress. She has built a diverse R&B, Pop and Hip-Hop fan base and successfully lunched her own brand and identity. Aside from her professional television and music career, she is inspired by her passion to help others and has created a book series to empower young girls called Fabulous Girls. Further, she founded Fabulous Girls Charity to help bring awareness and support to children with cancer. Cymphonique is the official spokesperson for BYOU- Be Your Own You, a girls' self-esteem brand empowering girls through education, positive messaging and attractive apparel and accessories.
Contestants must be at least 13-years-old to enter. For registration information, visit Cymphonique's official site: http://cymphonique.com/contest