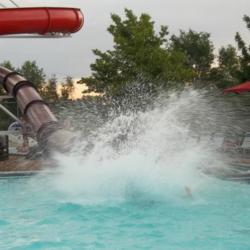 "Thanks for the great pool party, Dr. Holt!"
Highlands Ranch, CO (PRWEB) July 24, 2012
Wearing braces or Invisalign is a lot more fun when you are a patient of orthodontist Gary M. Holt, D.D.S., P.C. On July 19, 2012, Dr. Gary M. Holt hosted his annual patient appreciation party at Pirates Cove outdoor aquatic center near Highlands Ranch, CO. The Highlands Ranch orthodontist rented out the entire water park for the enjoyment of his patients. "Braces should be fun," exclaimed Dr. Holt when explaining why he does this annually. With the water park, the ice cream sundaes and the photo booth, everybody agreed that braces and Invisalign just got a lot more fun in Highlands Ranch.
Patients and their families enjoyed splashing in the water pools, speeding down the water slides, building castles in the sand piles, and creating delicious ice cream sundaes with all the toppings. The highlight of the evening for patients, though, was being able to visit with Dr. Holt and his staff without having the braces or Invisalign tightened or adjusted. Dr. Holt said, "This was a great turnout—about 700 people—and one of the most rewarding things we do all year. It is great to see the patients and their families having a great time together," commented the Orthodontic specialist who limits his practice solely to braces and Invisalign.
Comments posted by patients on Gary M. Holt, D.D.S., P.C.'s Facebook Timeline:

Thanks for the great pool party at Pirates Cove! It was great!!! I loved spending time with the staff and meeting their beautiful families! --Ninfa
Thanks for the great family night at Pirates Cove! We had a fantastic night and everyone enjoyed it so much. --Panga
Thanks for a wonderful evening. My kids had a blast. Thanks again. --Angie
Dr. Gary Holt and his staff enjoy creating great smiles with their patients through orthodontics, braces, and Invisalign. The Annual Patient Appreciation Party is their way of thanking the patients for entrusting their orthodontist care to Gary M. Holt, D.D.S., P.C.