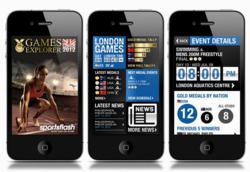 Explore the biggest sporting event on the planet like never before with London Games Explorer.
(PRWEB) July 25, 2012
infoplum® through its leading sports brand Sportsflash® today announced the launch of "Games Explorer", a premium iPhone App that delivers in-depth coverage of the 2012 Olympic games. http://www.gamesexplorer.com
Games Explorer is content and feature rich with stunning visuals. Easy navigation makes the app engaging and simple to use. Games Explorer's informative and interactive content makes it a fantastic app for users to have by their side while they watch the Games. Packed with news, pics', interesting stats, quirky facts and much more, Games Explorer is well worth its download price of $2.99.
Among others, "Games Explorer" is packed with interactive features such as:

The 2012 Games schedule with an option of displaying only medal events.
Live results from all heats and preliminaries, with news & photos
Live scoreboards with medal results from all events as they happen
Medal tally predictors
Biographies of Olympic stars, past and present
Profiles of Olympic sports and Olympic venues
Daily Fun Facts
Interesting stories and golden moments from past Olympiads
Complete medal tallies spanning the history of the modern summer Olympic Games,
Complete lists of medallists from every nation who have competed in the modern summer
Olympic Games
This iPhone App's in-depth coverage and striking graphics make it a 'MUST HAVE' App for all games enthusiasts. Games Explorer is available and can be downloaded from the app store http://itunes.apple.com/app/london-games-explorer/id537544015?ign-mpt=uo%3D5
About infoplum®
infoplum® is a mobile led information technology company focussed on developing and delivering innovative applications with engaging content. The core elements of its business are Data Capture, Analysis and Distribution. infoplum® currently services the sports media market through Sportsflash®, its leading sports brand. infoplum® uses its sound proprietary technology to develop innovative applications in the sporting world, providing interactive and smart real-time information on leading local and international sports. http://www.infoplum.com