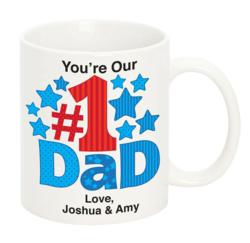 With so many Father's Day gifts now available people appreciate something unique that will make Dad feel special.
Sydney, Australia (PRWEB) July 24, 2012
Identity Direct, Australia's leading online personalised gifts website is preparing for one of their busiest seasons of the year: Father's Day. Father's Day, which occurs on the 2nd September in Australia, is the last major event before the Christmas period, and has been receiving increased demand over the last 2 years according to Identity Direct founder Linda Greene.
Every year Identity Direct look to expand their personalised range even further to include more products suitable as Father's Day Gifts. Greene states that "in the past, Father's Day was not a major event for Identity Direct, but over the last 2 years we've increased our range of Father's Day related products and our customers have really responded to it". Some of Identity Direct's most popular Father's Day gifts include personalised mugs, and the newly added personalised stubby holders.
When asked why personalised Father's Day gifts have become so popular, Greene notes that "with so many Father's Day gifts now available people appreciate something unique that will make Dad feel special."
Identity Direct, who were originally an offline print catalogue company, moved to the online space in the early 2000s. Since their move online they have noticed a huge shift in the way people are shopping. A combination of their continued offline offering, mixed with their online offering has allowed the Identity Direct brand to cater to all types of customers whether they prefer to shop on the Internet, or through catalogues.
As Identity Direct's products come personalised, orders for Father's Day, and any other occasion, need to be received approximately 16 working days beforehand to ensure that they will be manufactured and delivered in time. Unlike other sites, all Identity Direct products are personalised to order due to the number of personalisation options.
About Identity Direct
Identity Direct is the world's leading supplier of personalised children's products. We create products that bring magical, memorable moments that will live in the hearts and minds of you and your children forever. All our products are individually personalised for you and, having been in business since 1992, we're experts in personalisation. We appreciate the joy our products bring you and we take seriously our responsibility to provide you with great quality products, matched with unrivalled value and superior service. We're also partners with some of the biggest children's brands in the world – including Disney, Marvel, Sesame Street and Nickelodeon. These partnerships let us combine the uniqueness of personalised gifts with the magic of your children's favourite characters. If unique, memorable and magical is what you're looking for in a gift, we can help!