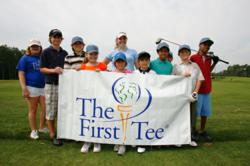 It has been a pleasure working with this great organization and we are hoping for a bigger role in the future. -Mike Pournoury
Texarkana, Arkansas (PRWEB) July 25, 2012
Ocean Canyon Properties, a privately owned membership camping and RV resort company, is proud to announce their sponsorship of The First Tee of Greater Texarkana, a youth development organization that incorporates the game of golf and its nine core values into the lives of young people ages 3 – 17.
The First Tee, an international organization that was founded in 1997, has reached over 4.7 million participants in all 50 United States, as well as four international locations. Former President George W. Bush serves as honorary chair of the organization. Their mission is to impact the lives of young people by providing educational programs that build character, instill life-enhancing values and promote healthy choices through the game of golf. The First Tee founding partners are some of golfs most respected organizations; the LPGA, The Masters Tournament, The PGA of America, The PGA TOUR, and USGA.
Ocean Canyon Properties President Michael Pournoury states, "The First Tee has become a great program throughout our area through the leadership of its Executive Director Mary Adams. It has been a pleasure working with this great organization and we are hoping for a bigger role in the future."
Ocean Canyon participates in the First Tee sponsorship through OCP's Millwood Landing Golf and RV Resort in Ashdown, Arkansas.
About Ocean Canyon Properties and Millwood Landing Golf and RV Resort
Ocean Canyon Properties is a growing system of privately owned, membership resorts that offer spacious RV sites, comfortable cabins, cottages and condos along with a wide variety of private resort amenities. With beautiful resort locations situated throughout the southern United States, OCP's resorts provide the safe, secure and enjoyable recreational experience that so many families seek. Millwood Landing Golf and RV Resort is located in Ashdown Arkansas, 25 miles north of Texarkana on Millwood Lake. It features a beautiful 18 hole golf course with tree-lined fairways, pro shop, driving range, putting green, pool, clubhouse and bar.
The Ocean Canyon Properties senior management has been directly involved in the membership camping resort industry on a national platform for over 30 years. This experience, combined with the rigorous standards of operation at both the resort and corporate levels ensure that the company operates securely, responsibly and continually provides the highest levels of service to its members, their guests and employees.
For more information, please visit http://www.oceancanyon.com.