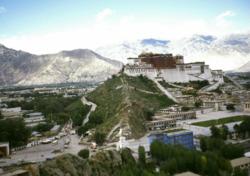 Lhasa, Tibet (PRWEB) July 23, 2012
Songtsan Travel is a licensed international tour operator located in Lhasa, Tibet. They are a team of native Tibetans with their own jeeps, guides and travel crew who work across all areas of the plateau. They are happy to announce that part of their income now goes to support children's education in Tibet.
"Our mission is to make a traveler's dream of a trip to Tibet into a reality," Songtsan Travel said. "We have more than two decades of experience working as tour guides in Tibet. We understand the land well and have explored every corner of the region."
Because foreign travelers are not allowed to travel independently in Tibet, according to Chinese government policy, tours must be arranged by a licensed agency. Songtsan Travel is a full-service tour operator that is uniquely qualified to plan Tibet trips.
Songtsan Travel supports children's education in Tibet through their school project. "We have a dream to serve these needy children to get them a better education and a better life," Songtsan Travel said. "Our ultimate goal is to help children in Tibet, to make it a better place, and to give them the opportunity to make more meaningful and more successful lives. We believe that the purpose of education is to promote morality, and our vision is for every child in Tibet to have a great public education."
Songtsan Travel is comprised of a team of professionals with many years in the tourism industry, and they specialize in inbound tourism to Tibet. Apart from the usual tours to Tibet they offer a number of special interest tours that give clients in-depth, personalized journeys, including tours focused on religion, culture, art performance, and festivals.
Personalized service is the cornerstone of Songtsan Travel's business. By using local tour guides and managers, all Songtsan personnel have firsthand knowledge of the areas in which they operate.