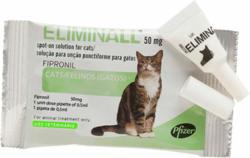 We have started doing regular posts on topics such as Breed of the Week, regular tips and advice section covers more serious issues and how to look after your pets
(PRWEB UK) 25 July 2012
After the success of their Facebook page launch, Petfleas have launched a new monthly competition to find the best pet of the month. Fans of their Facebook page are urged to send in photos of their pets, whereby the other users will vote on their favourites. The winner of the competition will receive a £50 voucher, redeemable in the online Petfleas store, as well as having their photograph featured on the Facebook cover for the next month.
Petfleas' Facebook page has attracted over 1,200 likes so far and is steadily growing as the company expands its range further. Joining the existing ranges of flea treatment are Pfizer's Eliminall and Vetoquinol's Flevox flea treatments as Petfleas' selection is expanded to meet demand.
Eliminall flea treatment contains the active ingredient Fipronil, which is also the major ingredient for the market leader, Frontline. Eliminall, however, has attached a much more attractive price range to their products, offering the same quality of treatment at incredible value. Also joining Eliminall is Flevox, from independent animal health company, Vetoquinol. Flevox is effective for the treatment of both flea and tick and with good value for money, as well as top quality, is another great addition to the Petfleas range.
Along with flea and tick treatments, Petfleas also offers treatments for many other pet health problems. Worm medication as well as treatments for joint trouble, products for eye and ear problems and digestive and dental issues are all readily available from the online store along with high quality veterinary diet foods from trusted suppliers Royal Canin and Hills. Petfleas cater for many of the most popular of pets, from cats and dogs to rabbits, horses, birds and other common domestic pets.
Members of Petfleas' Facebook page can benefit from regular discounts on both of these products as well as the rest of the range of pet health treatments. Spokeswoman for the company, Deborah Martin, added "The page is doing really well now and we have started doing regular posts on topics such as Breed of the Week, regular tips and advice section covers more serious issues and how to look after your pets, and we still like having a laugh with our regular funny pictures feature".
About PetFleas
Located in Cheshire, Petfleas is an online veterinary medicine and goods store that grew out of the independent vet store Beeston Animal Health. They have been running an online store since 2005 and focus on giving their customers the best support and quality they can. All Petfleas staff, therefore, are AMTRA qualified and they provide their accreditation online for customers to look at.
Petfleas' range includes all the latest medicine to take care of fleas and ticks as well as other ailments for animals of all sizes, from hamsters to horses and aim to deliver a great choice to their customers as well as knowledgeable and helpful service.