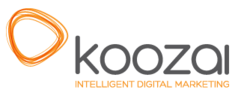 (PRWEB UK) 23 July 2012
The Digital Entrepreneur of the Year Awards recognise the businesses and individuals who have achieved fantastic results within the last 12 months. This year, for the first time, Digital Marketing Agency Koozai and Managing Director Ben Norman, are among the finalists for the Digital Business of the year award.
Koozai will be competing against four other companies, The Digital Learning Marketplace, Skyscanner, Blueleaf and MonsterSlippers.co.uk at the awards, which take place in Manchester on October 16th. All nominees have been able to demonstrate their entrepreneurial prowess and business achievements to the judges.
For Koozai, this has been something of a landmark year. Following a successful rebranding, the UK Digital Marketing Agency has since been named as the 23rd fastest growing technology company in the UK Deloitte Technology Fast 50, as well as picking up gongs at both the UK Search Awards and European Search Awards. Therefore, to pick up a nomination for an award outside the Online Marketing industry caps off an extremely busy, but extremely successful period for the agency.
Ben Norman, the Managing Director of Koozai, responded to the nomination saying; "It's fantastic to have been recognised by the Digital Entrepreneur of the Year Awards. As a business we have always strived to improve the services we offer and build our reputation within the industry. The past year has been an incredibly successful period for us, having completed our rebranding to Koozai and achieved a number of fantastic awards and nominations. Therefore, to be shortlisted as Digital Business of the Year is as exciting as it is humbling."
"We don't take success for granted and we're always looking to develop and move the company forward. Even within the past few months we have completely overhauled the website and introduced a new service, Koozai TV. Having already won at the UK and, most recently, the European Search Awards, we're delighted that people within the industry are recognising our achievements.
"However, this is one of the greatest things about being nominated for the Digital Entrepreneur of the Year Awards - it's not related to the marketing industry. Therefore it shows that our brand, which was only launched in May 2011, is already gaining recognition beyond SEO and online marketing."
The Digital Entrepreneur of the Year Awards 2012 takes place on October 16th at the Hilton Hotel in Manchester. More information about finalists and the awards can be found at: http://www.digital-entrepreneur.co.uk.
About Koozai:
Founded in 2006 by Ben Norman, leading UK Digital Marketing Agency, Koozai, offer a full range of professional digital marketing services for a diverse and expanding customer base. Specialising in Search Engine Marketing (SEO), Pay per Click Management (PPC), Social Media and Brand services, the UK based firm are able to provide complete solutions for clients from all industries and companies of any size.