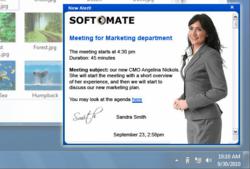 Using an employee screensaver channel increases employee awareness at least two times over non-critical announcements
Alexandria, VA (PRWEB) July 24, 2012
Internal communications with employees have become more powerful than ever before with DeskAlert's addition of a new corporate screensaver alert feature to it's already powerful line of programming solutions for enterprises.
The new desktop functionality works the same way ordinary PC screensavers do, but it allows rich content to be delivered to employees in seconds. Internal communication documents that include HTML, clickable links, FLASH, scrolling text, and even PowerPoint slides can all be sent with relative ease. The content itself can be created with that same ease with the WYSIWYG mode in the content editor and templates that are available.
DeskAlerts' screensavers come equipped with an alert feature that allows employees within a corporate environment to receive up-to-date information immediately or only when it is needed. Delivery times can be scheduled and availability times for viewing can be specified to ensure specific events are targeted for an optimum internal communication strategy. The content delivered can be broken down further to a be delivered to a specific mailing list, group, department or just one individual - assuring that productivity time is saved and utilized in the best manner possible. Why send out a corporate wide internal communication document regarding a project that only a few employees need to be aware of to react to accordingly? The corporate screensaver alert feature streamlines, enhances corporate productivity and employee engagement in a less obtrusive manner than conventional means.
According to a recent Besttoolbars survey, "Using an employee screensaver channel increases employee awareness at least two times over non-critical announcements".
Utilizing DeskAlerts with the screensaver alert feature can provide many added benefits, including:
-Enhancing corporate image by having a uniform screensaver on all computers. This sends out a professional signal to employees, clients and customers.
-Providing corporate-wide employee trust with up-to-the minute safety notices and scheduling
-Maximizing impact of product launches and announcements
-Building employee engagement
Using the newest version of DeskAlerts with it's screensaver alert feature encourages continued growth and cohesive employee relations with an internal communication strategy that benefits not only the employees, but the business as well.
To take advantage of lastest innovation in internal communications and corporate productivity, please visit http://www.alert-software.com/