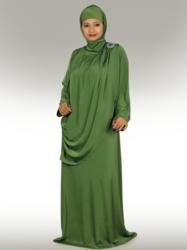 We customize : Any size, any length for you
(PRWEB) July 24, 2012
MyBatua.com a leading online store for modest Islamic clothing offers all customers a special 15% discount on shopping above $ 150 during this month of Ramadan. This offer is valid up to 31st July. To enhance the joy of celebrating this Eid MyBatua.com also offer 10% discount on all shopping during Ramadan.
The Store, MyBatua.com celebrates the Eid festival with great enthusiasm and in a creative way to spread love and happiness. Under the 'Ramadan Shopping festival' MyBatua.com sends festival greetings to all its shoppers through these discount offers.
MyBatua.com online store carries a wide selection of clothing and accessories and caters almost all sections of the community. With its traditional and modest designs the store offer a great service of custom sizes to its valued customers. Customers can customize the size and length of their garments for the proper fit. MyBatua charges a very nominal fee for this special service.
Shopping at MyBatua.com is always a delight for its customers due to the quality of work, designs and embroideries with an appeal of contemporary trends and fashion styles. Apart from the new customers adding to the popularity of The Store, MyBatua.com has large base of repeat customers who eagerly wait for new arrivals and announcements.
"MyBatua.com" online Islamic shop serves Abayas, Jilbabs, Hijab, Burqa, Tunics and Sherwanis with exact measurements of the clothing in XS, S, M, L, XL, up to 7XL, best fitting garments. The website allows you to choose the color and size including Garment Length Vs Body Height. It's online easy to understand size-chart helps the customers to make the correct decision.
The store also serves to wholesale customers.
Online shoppers of Islamic clothing will surely enjoy these special offers from MyBatua.com and enhance their joy of celebrating the great festival of Eid after the month-long fasting during this auspicious Ramadan!