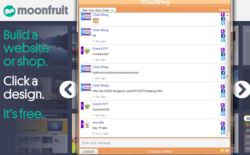 New York, NY (PRWEB) July 23, 2012
The niche of human interest has lately been a strong factor in the Moonfruit community. This fact is based on the numbers of blogs being created to empower the premise of human interest. Chatwing, a company expert in developing chat applications, has recently launched a chat widget that can provide streams of communication for human interest bloggers. Chatwing's developers believe that human interest in Moonfruit will continue to expand by empowering web communication to a certain standard.
Chatwing has climbed the ladder of online rankings, primarily, because of social media integration. This simple feature has allowed thousands of users to connect with many online sectors. With this feature, Chatwing users can now log in with their Facebook or Twitter accounts. The Chatwing chat box also allows full conversation control—now, Chatwing users will be able to delete messages in just one click, and they can also set up word filters. This is to ensure that their blogs' reputation is well-maintained.
Installation of the Chatwing chat application takes only few seconds. To install, the user must first register his blog's domain name. After that, he can now proceed to the customization process. With this, he can change the size, color, and title of the free chat widget. After completing these steps, Chatwing will now generate the necessary HTML code. The user must embed this code to his blog or website, and it will go live right away.
Visibility is also one of Chatwing's primary aims. Some Moonfruit bloggers have noted a significant boost in their blog's visibility within just days of intense usage. Chatwing's free chat box does this by turning the blog into an active chatting lounge filled with interesting topics to be discussed. Bloggers from other communities have also seen remarkable improvements in their blogs' online presence. To keep users satisfied, the Chatwing dev team will continue introducing platform upgrades and developments.
About Chatwing.com
Chatwing.com specializes in the new field of website chat. Over years, the Chatwing team has introduced live chatbox for hundreds and thousands of blogs. The Chatwing application bridges people from many parts of the world, creating global synergy through the Internet. The shout box can be installed in just seconds, and it can be used for varying purposes such as leisure and Internet marketing. It also allows a user to customize the size, color, and name of the widget. Chatwing is 100% free for everyone.