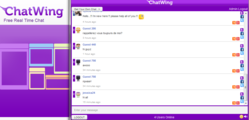 Seattle, WA (PRWEB) July 23, 2012
Human interest is now considered as one of the most famous niches in the blogging industry today. This is based on the blogs being created about social welfare, global rights, and empowerment of consciousness. The Chatwing team has decided to tap on this niche and help bloggers gain proper communication leverage through a simply advanced global chat box. The Chatwing chat tool has also been introduced in other niches of blogging such as travel, health and fashion.
The Chatwing free shout box can further help bloggers with social media integration. This feature allows guests and visitors to log in with their social media accounts, such as Facebook and Twitter. Some Facebook entrepreneurs have also used the Chatwing chat tool to expand their campaigns within a limited time. A single Chatwing chatroom can also accommodate up to 600 users in real time, so bloggers can really interact with many people.
Chatwing has been around for quite some time now, and it has managed to waddle through competition by tapping on certain niches that were often overlooked. The developers of Chatwing have believed that the niche of human interest can uplift regular web surfers and turn them into bloggers. In line with this projection, the Chatwing team is generating numerous campaigns for the free chat box. In this way, people will be able to utilize Chatwing's communication potential to a certain degree. The Chatwing application has also been used in forums, communities, and web portals.
To ensure that bloggers will gain an informative and entertaining website chat experience, the Chatwing team is always ready to introduce backend upgrades. This will make the Chatwing chat widget reliable in many known ways. The team is also doing frequent research and observations to know the specific needs of bloggers and web surfers. Chatwing also has a blog and Facebook page that is frequently updated with reliable content.
About Chatwing.com
Chatwing.com specializes in the new field of website chat. Over years, the Chatwing team has introduced live chatbox for hundreds and thousands of blogs. The Chatwing application bridges people from many parts of the world, creating global synergy through the Internet. The shout box can be installed in just seconds, and it can be used for varying purposes such as leisure and Internet marketing. It also allows a user to customize the size, color, and name of the chat widget. Chatwing is 100% free for everyone.