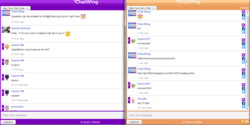 Chicago, IL (PRWEB) July 24, 2012
Chatwing, a company specializing in blog applications, is now ready to help out more bloggers by launching a chat widget with full conversation control. Now, bloggers will be able to set word filters and delete unimportant chatroom messages with just one click. Many bloggers from various online communities have benefited from this feature, thus increasing Chatwing's overall rank and reliability. Chatwing can also allow users to enjoy the privilege of social media integration.
Conversation control is beneficial for professional bloggers who are dealing with sensitive topics. Based on the varying reactions of web surfers, emotions may play major roles in chatroom discussions. Some visitors may react aggressively. To protect the integrity of the blog, the Chatwing user can just opt to delete profane messages rather than modify entire blog posts. This makes the Chatwing free chat box a flexible tool that can be used in many instances.
Months ago, the Chatwing dev team has primarily focused on just creating a free shout box for bloggers and web surfers. Now, the company is dealing with certain internal aspects, such as the needs and wants of bloggers, and their initial responses to global events. Additionally, the Chatwing team is always quick when it comes to dealing with technical glitches. To uplift communication potential, the Chatwing team has raised the user capacity to 600. In the coming months, the team is planning to upgrade it to 1000 so that more users will be able to enjoy entertaining web chat experience.
The Chatwing free chatbox has managed to stay ahead of competition because of the dedication its developers. Everyday, the developers are researching for new approaches in different online sectors. Additionally, the developers are also introducing various platform upgrades to maintain the speed of the Chatwing chat app. This is useful, especially now that Chatwing is generating thousands of signups per day.
About Chatwing.com
Chatwing.com specializes in the new field of website chat. Over years, the Chatwing team has introduced live chat box for hundreds and thousands of blogs. The Chatwing application bridges people from many parts of the world, creating global synergy through the Internet. The shout box can be installed in just seconds, and it can be used for varying purposes such as leisure and Internet marketing. It also allows a user to customize the size, color, and name of the widget. Chatwing is 100% free for everyone.