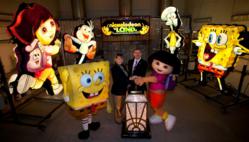 Millions of children will be delighted to see SpongeBob and his pals featuring in the Lights and it is particularly pleasing to have such an exciting new feature as we celebrate 100 years of the Lights
(PRWEB UK) 24 July 2012
SpongeBob SquarePants and other favourite Nickelodeon characters are getting ready to light up Blackpool Illuminations this year!
As the resort builds up for one of the biggest dates in the calendar, Blackpool Illuminations have joined forces with Blackpool Pleasure Beach and Nickelodeon for this year's Lights extravaganza.
A section of the world famous Lights will feature Nickelodeon characters outside Britain's favourite tourist attraction when the Illuminations are switched on in front of thousands of people on August 31.
SpongeBob, Patrick, Dora the Explorer and all your favourite characters will appear throughout the Lights season which brings hundreds of thousands of extra visitors to the resort after a busy summer season.
2012 marks the Centenary of the Illuminations and Nickelodeon is one of a number of new sections being introduced this year to mark this milestone.
Managing Director of Blackpool Pleasure Beach, Amanda Thompson OBE, said: "Nickelodeon Land has been a huge success since we launched the attraction in May last year and to have SpongeBob and all his friends as Illuminations is very exciting.
"The Illuminations are a national treasure and we are delighted to be involved in a year which marks its Centenary.
"Having seen the Nickelodeon Illuminations being built I can tell you they are fantastic and will really add to the visitor experience of people coming to see them."
Cllr Graham Cain, Cabinet Member for Tourism and Culture, at Blackpool Council, said: "Nickelodeon characters are recognised all over the world so there's no doubt they will be hugely popular feature. It's an honour for the Illuminations to be linked to such an iconic brand.
"We have a number of new features in this year's lights and the Nickelodeon section will help us to put on a show that's bigger and better than ever before to mark 100 years of the Illuminations."
Natalie Wyatt, Managing Director of Marketing Blackpool, said: "It is great that Blackpool Pleasure Beach and Nickelodeon Land are supporting the Illuminations this year in such a positive way.
"Millions of children will be delighted to see SpongeBob and his pals featuring in the Lights and it is particularly pleasing to have such an exciting new feature as we celebrate 100 years of the Lights."
Tina McCann, SVP Managing Director, Nickelodeon UK, said: "We are so pleased that characters such as Dora and Bikini Bottom's own SpongeBob and Patrick have been included in this year's Illuminations. Being incorporated into one of the UK's most iconic cultural events during such an important year is simply brilliant."