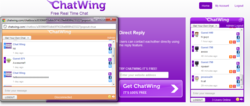 Omaha, NE (PRWEB) July 24, 2012
Blogging for companies has long been acknowledged as one of the most common practices in the cyberspace today. This is based on the numbers of blogs created for the sole purpose of company blogging. Realizing the strength of this niche in Moonfruit community, the Chatwing team has launched a chat box that can help bloggers gain communication leverage in the Internet. This chat application excels in connecting people coming from various online sectors.
Chatwing's free chat box utilizes social media integration to help company bloggers reach their target markets. This feature allows Chatwing guests and visitors to log in with their social media accounts such as Facebook and Twitter. In the future, the Chatwing dev team is planning to add more social media login options. The Chatwing chatroom has also a user capacity of 600, allowing a blogger to interact with many groups of people.
The Chatwing chat team has also expanded in other blogging communities, helping a lot of bloggers in the process. Some company bloggers have remarked that the Chatwing chat widget can be used as a form of customer service extension. Based on the research of the Chatwing team, real-time communication is more useful compared to blog comments that have certain delays. Without a form of a micro-chat tool, a blogger may lose visitors twice as fast. Chatwing also allows social sharing option, wherein users can share their conversations to their other friends.
Chatwing's free chat widget will continue helping hundreds of company bloggers in the long run. This is because of the projected upgrades that will be introduced by the Chatwing team. The team is also maintaining a Facebook page that is loaded with useful content and information. The content will explore the benefits of Chatwing's free chatbox and the online sectors that it can expand to.
About Chatwing.com
Chatwing.com specializes in the new field of website chat. Over years, the Chatwing team has introduced live chatbox for hundreds and thousands of blogs. The Chatwing application bridges people from many parts of the world, creating global synergy through the Internet. The shout box can be installed in just seconds, and it can be used for varying purposes such as leisure and Internet marketing. It also allows a user to customize the size, color, and name of the widget. Chatwing is 100% free for everyone.