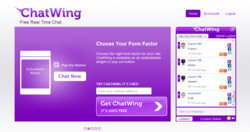 Cambridge, MA (PRWEB) July 24, 2012
Cambridge, MA – The Chatwing development team, intent on helping bloggers gain proper communication advantage, has reached out to the Ucoz community and introduced a user-friendly global chat widget. This chat application has been introduced in various blogging communities and received mostly positive reviews. It has also been used for different online purposes, primarily related to blogging, technology, and online marketing. Ucoz users can also take advantage of Chatwing's social media integration feature.
The Chatwing chat box is loaded with simple but very useful features. One of these simple features is the message deletion system. With this, the Chatwing user has full conversation control and he can delete messages in real time. Adding to that, the user can set up word filters to keep the Chatwing chatroom as enticing as possible. Ucoz users can also use the Chatwing chat app as a simple marketing tool because of the social interaction that it can offer.
Chatwing's free chat box has also prospered in the online sectors of finance, sports, technology, and fashion. From these prominent online sectors, Chatwing has generated hundreds and thousands of signups. Because of this influx of users, the Chatwing dev team has created several backend upgrades, making the free shoutbox as stable as possible. Currently, the Chatwing chatroom can accommodate up to 600 users. However, the dev team is planning to upgrade it to 1000 so that many users will be able to communicate efficiently.
Ever since the inception of the Chatwing free chatbox materialized, the dev team has always been thinking of improvements and strategic expansions across the Internet. The dev team also believe in the empowerment of the premise of website chat. With an entertaining web chat experience, bloggers will be able to interact with large groups of people. The Chatwing team is also maintaining a Facebook page filled with interesting content and informational content.
About Chatwing.com
Chatwing.com specializes in the new field of website chat. Over years, the Chatwing team has introduced live chatbox for hundreds and thousands of blogs. The Chatwing application bridges people from many parts of the world, creating global synergy through the Internet. The shout box can be installed in just seconds, and it can be used for varying purposes such as leisure and Internet marketing. It also allows a user to customize the size, color, and name of the widget. Chatwing is 100% free for everyone.