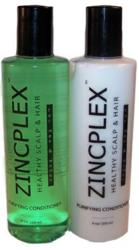 This is only product that worked for me long term
Chattanooga, TN (PRWEB) July 25, 2012
For years Zincplex has been producing an herbal alternative for people that want help with symptoms from dandruff, seborrheic dermatitis and scalp psoriasis. These symptoms such as itching, flaking, scalp crust, smelly hair and more have all been helped with an herbal mixture and a very special mineral called zinc pca.
Zinc pca has been proven to be anti bacterial and anti fungal. This is important for problems such as scalp acne, pimples and even the large zits that often occur on the back of the head. Zinc pca is also proven to reduce the amount of sebum or oils that the sebum gland produces. This is vital since most bad bacteria and fungus live off the scalp oils. By reducing the amount of oils the symptoms clear up fast. Visit our website to learn more about how the hair follicle works.
Zincplex is now proud to offer its best selling herbal complex in an Extra Strength version. For those that feel that their symptoms are extreme with regards to irritation, flaking, redness, bumps, itching, flaking etc then the extra strength version might be a better option for them to begin with.
Zincplex. is also offering its herbal mixture and zinc pca complex in a body wash for anybody that suffers from bumps on the back of their arms or for those that suffer from acne or pimples on their back, shoulders, chest and neck! Read More About Scalp Acne!
To learn more about Zinc Pca and why it is considered the breakthrough ingredient for creating the perfect scalp click here. When combined with a purifying herbal mixture the hair follicle is deep cleansed and the ph of the scalp is returned to normal. Both are extremely important for long term health of the sensitive scalp skin. It is important to take a long term approach otherwise you will continue to treat the symptoms only.