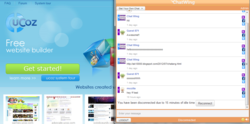 Burlington, VT (PRWEB) July 25, 2012
Online selling through blogs has been one of the easiest ways of product movement today, based on different professional commentaries about the importance of blogs. Chatwing, a company adept in making chat applications, has emphasized the strength of this fact by introducing a chat widget that can provide communication advantage for thousands of bloggers. The Chatwing chat tool has expanded in the Ucoz community, and the shoutbox has received positive reviews.
One of the noted factors that have contributed to Chatwing's overall rank is Facebook and Twitter integration. Now, users of the free chat box will be able to log in with their Facebook and Twitter accounts, instead of just relying on the Guest option. Online sellers can benefit from social media integration in different ways. With this option, the online seller will be able to expand his social network. In turn, he will be able to reach his target audience. The Chatwing free chatbox is also versatile when it comes to topics that can be discussed by visitors.
Chatwing chat app is also compatible to most blogs and websites, and it can be installed in just seconds. To install the Chatwing app, the user must first register his blog's domain name. After that, he can now proceed to the customization process. In this step, the user will be able to edit the size, color, and title of the free shoutbox. Once everything is complete, Chatwing will generate the HTML code and the user can retrieve it.
Aside from the Ucoz community, the Chatwing team is also dedicated in expanding to other online sectors. With Chatwing's rigorous online expansions, thousands of bloggers and online sellers will be able to utilize the communication potential of the free chat widget. The Chatwing team is always ready to introduce new upgrades, ensuring the stability of the chat application all the time.
About Chatwing.com
Chatwing.com specializes in the new field of website chat. Over years, the Chatwing team has introduced live chat box for hundreds and thousands of blogs. The Chatwing application bridges people from many parts of the world, creating global synergy through the Internet. The shout box can be installed in just seconds, and it can be used for varying purposes such as leisure and Internet marketing. It also allows a user to customize the size, color, and name of the widget. Chatwing is 100% free for everyone.