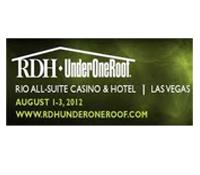 We will put fiteBac sanitizer on hygienists hands when they visit fiteBac's booth. It allows them to feel the luxurious softness of the fiteBac Gel. It helps soften hands, and that's important for hygienists with dry skin
Marietta, GA (PRWEB) July 24, 2012
The RDH Under One Roof hygiene conference will be held at the Rio All-Suite Hotel and Casino with a focus on educational courses, workshops, sessions and exhibits for dental hygienists. The three-day event is expected to be well attended as documented from past Facebook and Twitter posts. fiteBac SkinCare plans to partake in the event by sanitizing hands on the event's floor. "We will put fiteBac sanitizer on hygienists hands when they visit fiteBac's booth. It allows them to feel the luxurious softness of the fiteBac Gel. It helps soften hands, and that's important for hygienists with dry skin," says Marietta, GA emergency dentist Kirk Kimmerling, DDS & CEO of fiteBac SkinCare, LLC.
The RDH dental conference provides continuing education courses to hygienists with the possibility of acquiring as many as 22 continuing education hours at the event. Hygienists attend not only for required educational hours, but look for the latest developments in hygiene care. fiteBac is one of those futuristic products. The unique hand sanitizer kills bacteria without the harshness of alcohol or water. The patent pending formulation helps promote soft hands while helping to strengthen the skin's moisture barrier. It's non-greasy, pennies per application, and helps keep skin velvety soft, a hygienist's dream.
The RDH has become a popular convention for hygienists and their educational needs. Outside the obvious entertainment of Las Vegas, plenty of wholesome fun exists; excursions to the Grand Canyon, the Las Vegas Zoo, the Aquarium at the Silverton, Lake Mead, Red Rock Canyon and more. It's the perfect location for hygienists to not only learn but enjoy.
About fiteBac™ SkinCare, LLC and KHG: fiteBac SkinCare, LLC is a subsidiary company of Kimmerling Holdings Group, LLC ("KHG"), a Georgia-based biotech company that has developed an antimicrobial platform intellectual property technology. KHG was founded in 2009 by a Cosmetic Dentist Marietta, GA Kirk Kimmerling, DDS and Dan Kearney. The two set out to create products to "change the world, one product at a time." Kirk and Dan first targeted bacterial issues in dentistry, knowing that solving those problems would lead to dramatic improvements in oral health, and more importantly, systemic bodily health beginning with the Marietta, GA dentist. They engaged a team of highly accomplished chemists and scientists retired from Fortune 500 companies and researchers from major universities. In doing so, KHG has developed technology with several patents pending that has application well beyond dental materials, and has exciting potential in medical, plastic, composite, coating and other applications that are in various stages of development, some close to commercialization. fiteBac™ SkinCare Hand Softening Gel is the first product to be released under the fiteBac brand name. For more information on the Marietta dental office of Kirk Kimmerling DDS, click here.