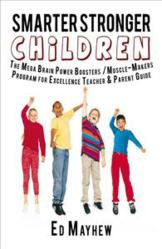 The fittest 9- and 10--year-olds in their study had, on average, a 12% larger hippocampus (the learning and memory part of the brain)
Winchester, VA (PRWEB) July 25, 2012
Something is missing in neighborhoods across America – children out playing. This lack of large-muscle activity is something to be concerned about because in recent years scientific study after scientific study has shown that this newly-acquired sedentary lifestyle that plagues enormous numbers of children not only hurts them physically, but mentally as well. One of the findings of these studies is that there is a virtual flood of brain-boosting, brain-cell-growing chemicals unleashed in the brain and into the brain from the body when children get "out of breath" – breathing much faster and deeper than normal – from vigorous play and exercise. Here's a brief sampling of other startling discoveries researchers have recently made:

A study of 1.2 million Swedish military recruits found that there is a strong correlation between the aerobic fitness of these teens and their I.Q.'s. Further, those young men who bettered their cardiovascular fitness between the ages of 15 and 18 also had improvement in their cognitive abilities.
Closer to home, research at the University of Illinois found that the fittest 9- and 10-year-olds in their study had, on average, a 12% larger hippocampus (the learning and memory part of the brain) than the least fit children. In another study at this same university, 9-year-olds who walked on a treadmill for 20 minutes prior to a reading comprehension test scored approximately one whole grade level higher than when they sat for 20 minutes before taking the test.
The Naperville School District (Illinois) had students who were struggling with math take a special fitness-based PE class immediately before math class. At the end of the semester, the exercisers had improved their math scores by 20.4% compared to 3.9% better scores by the non-exercising control group.
The problem is that children today, on the whole, are not getting the vigorous activity they need to be their best. According to a 2009 Kaiser Foundation for the Family study, eight- to 18-year-olds average 7 hours 38 minutes per day being entertained by electronic gadgets, and that doesn't even include time spent texting, talking on cell phones and doing school work on the digital devices. This leaves little time for the large-muscle activities that have been proven to optimize brain function.
PE classes on a daily basis could be a solution in the schools, but lack of funding and loss of academic class time render this option implausible for most schools. On the home front, many parents are too busy or distracted to monitor their children's physical activity. Moreover, many children are not interested in sports participation.
One solution, offered by author and 40-year veteran professional educator Ed Mayhew, is for parents and teachers to intersperse aerobic activity into their children's days with Mega Brain Power Boosters / Muscle Makers activities, which are presented in the guidebook, Smarter Stronger Children. Mayhew says that "the MBPB/MM are unique scientifically designed brain-boosting exercises that can be enjoyed in the classroom – right beside one's desk -- or at home, whenever kids can't get outside." He adds, "AND because they can be combined with academic subject matter of the adult's choice, they don't take away from academic class or study time."
While completely eliminating kids' electronic screen time is not a viable option, peppering their days with brain-growing aerobic exercise by inserting Mega Brain Power Boosters in between their array of more sedentary pursuits is very doable.
Complete information on this revolutionary new program can be found in the guidebook entitled Smarter Stronger Children: The Mega Brain Power Boosters / Muscle Makers Program for Excellence -- Parent & Teacher Guide. To find out more, visit: http://www.SmarterStrongerChildren.com