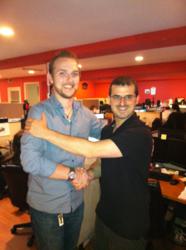 Our programs have been a huge hit with our independent sales offices, but we knew something was missing.
New York, New York (PRWEB) July 23, 2012
New York-based Merchant Funding Company Yellowstone Capital has announced today that their in house funding team that includes 5 independent funders will begin to extend their programs to longer terms and better rates. The response to their original programs has been tremendous but in an effort to stay ahead of the competition they are adding new programs that will be unrivaled in the industry
Assistant Director of ISO Development, Joseph Lepkoski had this to say, "Our programs have been a huge hit with our independent sales offices, but we knew something was missing. We were always hearing that our offers were great, but they needed better pricing and longer terms; so that's exactly what we have done."
On August 1st YSC's ISO department will begin offering "Platinum Pricing" on deals that qualify.
Mr. Lepkoski went on to say, "Our independent Sales Offices report that they would increase their funded deals by up to 25% if they could offer an 8, 10, or 12 month program instead of maxing out at 6 or 7. Now, we know that not every deal will qualify for this, but the confidence our ISO's will have from knowing that they can compete with any offer their merchants may have is priceless."
The ISO department at Yellowstone Capital is inviting an ISO who in the past maybe lost a deal that they submitted to YSC due to pricing by a competitor; this is your way to make sure that doesn't happen again. Andrew McDonald, Director of the ISO Department echoes this by saying, "We want to be a One Stop shop for our ISO's. We don't want to hear that they aren't sending us their best deals because our pricing isn't competitive. We believe we have a program that will take our pricing down by 10-12 points and extend terms from 6 months all the way to 12. We believe that we will be an ISO's best option based on this new program."
Yellowstone Capital will still continue to invest unlimited resources into their foundation products in hopes that all an ISO's deals will have a home at Yellowstone. The expanding of these programs led by Andrew McDonald, under the direction of Isaac D. Stern, is just another example of the way they continue to expand their impact on the merchant cash advance industry, and Yellowstone hopes that by offering better products they will become an even better company.
For more information please contact the following:
Andrew McDonald
347. 464.0785
amcdonald(at)yellowstonecapllc(dot)com
Joseph Lepkoski
732. 533.7284
jlepkoski(at)yellowstonecapllc(dot)com