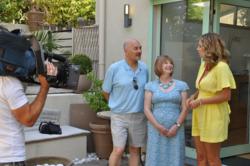 we felt that lovely home would be interesting to them since they would be close to everything," said Michael Fusaro, Director of Nice Properties Real Estate
Nice, France (PRWEB UK) 30 July 2012
"A Place in the Sun", Britain's real estate related lifestyle program airing on Channel 4 has selected a modern loft-style duplex property in Nice on the famous Meditteranean Cote d'Azur, to be featured in an episode this September.
The popular British television program about buying property abroad in sunny destinations features many properties for sale worldwide, especially in the south of France where it is generally known to be a favorite foreign investment and vacation destination among the Brits.
The premise of the television program is based on the experience of British couples looking to purchase a property abroad and are presented with several property options according to their budget.
The host, in this case Jasmine Harman, shows the couple the prospective properties as well as provides them with all the specific details of the property and buying process. At the end of the program, the couple shares their views and reveals if in fact they are going to buy a property they have seen.
Asking a Local
When it comes to finding out what properties are actually available in the local real estate market, the "A Place in the Sun" team turns to local real estate companies to help them find the properties that meet the budget and needs specified by the couple.
Nice Properties Real Estate chose a modern and contemporary loft style duplex located in the well known residential neighborhood of Cimiez that is in close proximity to the center of town and all the amenities.
"We proposed this property to 'A Place in the Sun' because it is in a very nice residential neighborhood and since the couple is looking to make this a primary residence, we felt that lovely home would be interesting to them since they would be close to everything," said Michael Fusaro, Director of NICE PROPERTIES.
The couple also visited other properties in their budget listed by other local real estate agencies.
Nice Properties is the French Riviera's leading real estate group specializing in the sale of luxury villas, vacation homes, apartments, commercial real estate and new build programs, and have the most effective professional multi-lingual network of real estate professionals with 5 offices along the Cote d'Azur from Cannes to Beaulieau, providing an efficient and seamless platform for the best real estate opportunities and investments on the French Riviera.
For more information please visit the Nice Properties comprehensive website with user-friendly searches to view current listings:http://www.nice-properties.com.