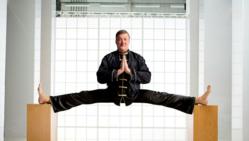 London, UK (PRWEB UK) 23 July 2012
Virgin Media is launching its latest multi-million pound advertising campaign, featuring self-confessed gadget lover Stephen Fry as well as Sir Richard Branson in typical tongue-in-cheek style, to highlight key features of Virgin Media's award-winning TiVo® Service.
The campaign, created by BBH, will break on primetime ITV1 on Saturday 14th July and will build upon previous successful ads featuring Richard alongside David Tennant and again set in the 'white world', first seen at the launch of Virgin Media's TiVo one year ago starring Marc Warren.
The first ad will focus on the TiVo's intelligent search functionality, using YouTube's search function as the metaphor to demonstrate the ease and speed of TiVo search on the TV. Stephen is revealed in kung fu-style robes and doing the full, impressive and eye-watering splits. This cuts to Richard who whips his head round in classic kung fu-style, before producing a TiVo remote from his robe sleeve and throwing it like a ninja star through the air. Stephen catches it one handed before searching for 'kung fu' on TiVo, finding "everything kung fuey in the blink of an eye".
The second ad will showcase the TiVo's WishList function. Stephen gives viewers an insight into his own desires in the opening of this ad, throwing arms in the air, yelling to the gods that he wishes to see a dinosaur. Following dramatic thunderous sounds, nothing appears, so Stephen turns and points the remote at the TiVo box and selects the WishList feature instead, where you can 'wish for whatever you like'. He opens a folder packed full of a vast array of TV shows, movies and documentaries about the prehistoric creatures. The full ad goes on to ease viewers with a rippling glass of water and a T'Rex's snout looming over Stephen, oblivious to its presence.
Jeff Dodds, executive director of brand and marketing communications at Virgin Media, said: "Stephen Fry is without a doubt one of the most high profile and digitally savvy figures of today, making him an ideal candidate to demonstrate Virgin Media's TiVo service. Whilst the success of our previous ad campaigns has done a fantastic job in raising awareness of TiVo and some of its great features, such as a TV guide that goes backwards in time, our next step is to help even more people understand the many benefits of upgrading to TiVo. We think we've achieved this in a funny and memorable way."
The campaign was created by BBH, and produced by Pulse productions with media planning and buying handled by Fifty6, and will run across TV and online.
About Virgin Media
Virgin Media is the first provider of all four broadband, TV, mobile phone and home phone services in the UK.
The company's cable network – the result of a multi-billion pound private investment – delivers ultrafast best broadband to over half of all UK homes, with speeds of up to 100Mb, and is being expanded to reach thousands more people across the country.
Virgin Media has developed the most advanced interactive television service, bringing together broadcast TV, thousands of hours of on demand programming and the best of the web in a single set-top box powered by TiVo. The company was the first to offer HD TV and 3D on demand to millions of UK households.
Virgin Media also operates the most popular virtual mobile network in the UK which, when launched, was the world's first such mobile phone service. It is also one of the largest fixed-line home phone providers in the country.